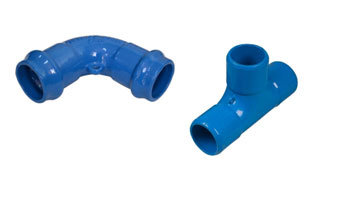 Dutco Tennant LLC  entered into the business of supplying ductile iron pipe fittings for the Middle East and GCC clients long ago. We provide equipment to service the fast growing water and waste-water transportation segment in this area. The company's flawless track record of Quality Assurance and many years experience in ductile iron pipe fittings industry. We are in a commanding position in offering various products for water supply and wastewater transportation sector of the market.
About Ductile Iron Pipe Fittings:
Quality ductile iron pipe fittings for different markets like the municipal water transmission & distribution,  industrial, power markets, treatment plants, pump stations, and others is on offer. Superior class Ductile iron fittings have been sand cast as per the European Standard EN 545:2010. We satisfy dimensional requirements as required by various projects. Every fitting has gone through leak-tightness test done either with air or with water as per EN 545:2010. The fittings have been designed and made as regular push-on joint type, flanged type, and self-anchored automatic push-on joint type. Mechanical joints may be used for collars or couplings only. Each socket joint may be supplied with its EPDM gasket.
Proven to appreciably improve the efficiency and working conditions of work man, our award-winning solutions range is ideal for use in every drinking water supply networks in city, semi-urban and rural areas. Quality ductile iron pipe fittings have been designed to help in the extending or renewing existing networks. These fittings are dimensionally compatible with existing networks (plastic pipe) and their associated connections and maintenance accessories.
Available in various sizes, these fittings come in diameters of 75 and 160 mm, the di pipe fittings can last more than 100 years. Great fittings in our supply have good strength, they are protected against soil and water, and they are leak proof, strong, usable and flexible.
Standard
DI fittings - ISO 2531-1998/EN 545 – 2006
Flanges – ISO 7005-2/EN 1092-2
Cement Mortar Lining – ISO 4179
Metallic zinc with Bitumen – ISO 8179-1/ BS 3416
Material
Ductile Iron – K9 (Socket – Push on, Spigot, Flanged Ends)
Application
The above fittings are used to connect pipes or valves in the network.
Specification
Fittings shall be truly circular of uniform thickness.
Flexible Joint shall be spigot and socket "push on" type suitable for angular deflection in any direction and capable of axial movement. Flanged fittings shall be used when connecting to valves or other special fittings.
Raised Face Flanges. Rotatable Flanges up to DN 600
All flanged fittings and internal surface of socket bell shall be painted with non-toxic solvent-free two part fusion bonded epoxy coating applied to a minimum DFT of 300 microns.
Fittings internally lined in accordance with ISO 4179 with sulphate resisting blast furnace slag cement mortar.
Fittings are externally coated with metallic zinc to ISO 8170-2 and a finishing layer of black bituminous coating layer to BS 3416 with a minimum DFT of 100 micron except flanged fittings which will be fusion bonded epoxy coated.