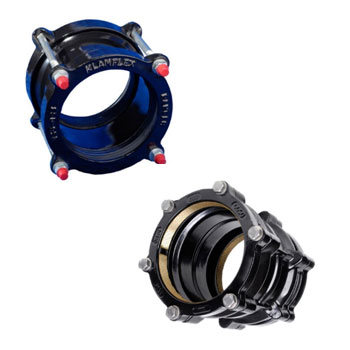 Standard
BSEN 1563:1997, BSEN 10025:2004
Material
Ductile Iron under 140 mm and Rolled Steel over 140 mm, Gasket: EPDM
Application
Couplings are used to connect the pipes together in a network.
Specification
Bolts, nuts and washers in SS316
Pressure rating: PN 10, 16 as well as 25 and 40 for select sizes.
Epoxy coated to 300 microns
Test Pressure 1.5 times the design pressure
Tie rods provided for final anchoring and location and these double as mating flange jointing bolts. Ranger and ranger step Couplings for select sizes (Max. 16 bar) can be used to join pipes of different outer diameters with same or different nominal bore.
Gripper Couplings and Full sleeve couplings are used to connect PVC/HDPE pipes to prevent pipe pull out.
Dedicated Couplings are used to join pipes of same OD. Sizes range from DN 50 to DN 2400.