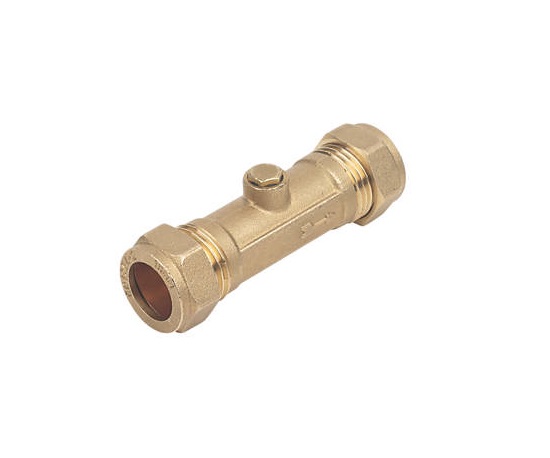 Dzr brass compression ends - double check valves can help for preventing the backflow of the contaminated water inside the potable water supply. They comprise of a Lead-Free fused epoxy coated cast iron or cast copper silicon allows body construction which is very easy to maintain and can be serviced. The series is ideal at cross-connection referenced which are identifies like non-health hazard applications. For requirements of installations, you need to check with the local inspection authorities.
These valves are used for directing the flow of air from either of the two available sources inside a common line which depends on the higher pressure. They can be used for directing airflow for a specific range of functions or for selecting a resource to supply the higher pressure of either the two sources of air. There are primarily two double check valve types which are the disc valve and the shuttle valve which carry the same functioning but the only difference is that the shuttle type comes with a movable shuttle for sealing the lower pressure source off whereas the disc type comes with a moveable disc. When the pressure of air reaches either end of the check valve, the moving disc or shuttle responds to the pressure and seals the ports on the opposite sides if they are higher than the other one. The flow of air continues via the distribution port of the double test valve. If the stress gets reversed, the disc or shuttle position will get reversed. The valves have been designed so that the sir present inside the exhaust mode never gets impeded by the disc or shuttle. Dzr brass compression ends - double check valves are pneumatic and are made up of a valve body along with a synthetic ball or cuboid valve element which moves inside the boom of the valve.
Features & Benefits –
For preventing the risks of backflow and contaminations due to backward siphonage, the double-check valves are used in public, commercial and domestic buildings.
They have been WRAS approved to be used with potable water upto 85°C
Supplied with BS EN 1254-2, the compression version is meant to be used with female taper threads which comply with BS EN 10226-2 or BS EN 1057 R250 copper tube
The rated pressured is PN16 with a maximum working/inlet pressure of around 16 bar
Complies with BS EN 13959 no pollution check valves
Dutco Tennant LLC offers a comprehensive range of Dzr brass compression ends - double check valves suited for all types of plumbing projects in the Middle East.
Features
Compression Ends
WRAS Approved
Conforms with EN13959
Prevention of back flow and back syphonage contamination
Technical Data
| | |
| --- | --- |
| Max Pressure | 10 Bar |
| Working Temperature | -10ºC to +85ºC |