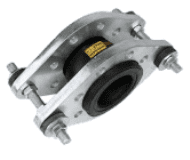 Tied flanged flexible connectors are either more or single bellows depending on the various movements which need to be accompanied in various conditions of SS 316 Complete or SS 304 with Tied Rods if required. The EPDM Emflex rubber flexible tied connectors are comprised of a synthetic rubber membrane that is reinforced with nylon. The wire-reinforced collars and the unit is completed with carbon steel flanges. They are suited for absorbing the movement in various directions, axial elongation, axial compression and the deflection of lateral. A small portion of the angular movement can also be allowed. They are installed mostly in the pipework for isolating various plants that can produce vibration and noise. The transmission of vibration and sound can get effectively dampen by the flexible connectors from the plant items that create vibration and noise. They can effectively dampen down the vibration and sound transmission from the items of the plant inside the service installations of the building.
The pump connector comprises multiple rubber bellows mating and assembly surfaces which are fitted along with zinc plated carbon steel van stone oval flanges which are complete with fully threaded tie bars along with rubber top hat washers. They have been designed for reducing the vibration and noise from the pumps and reciprocate the machine. They are suited for water, steam and gasses with other types of applications that are non-ferrous. The rubber connectors have been designed to be installed over vibrating equipment for decreasing the transmission of the noise along with the vibration present inside the piping. They are mostly meant to be used when the pressure of the system, flow media temperature is not suited for the use of other types of flexible connectors. It should be noted that the rating of the vacuum is mostly due to the length of installation without the presence of an external load. These products should be installed on vacuum applications that are elongated.
If you are in search of the most advanced range of tied flanged flexible connectors in the Middle East, then your best bet lies with Dutco Tennant LLC. We have been supplying the most advanced range of solutions in the region for over 40 years.
Features
Flanged PN16 BS4504
EPDM/NBR Body
Zinc Plated Carbon Steel Oval Flanges
Nylon Cord Fabric with Steel Reinforcement
Technical Data
Max Pressure
16
Working Temperature

-20°C to +100°C EPDM

-20°C to +80°C NBR