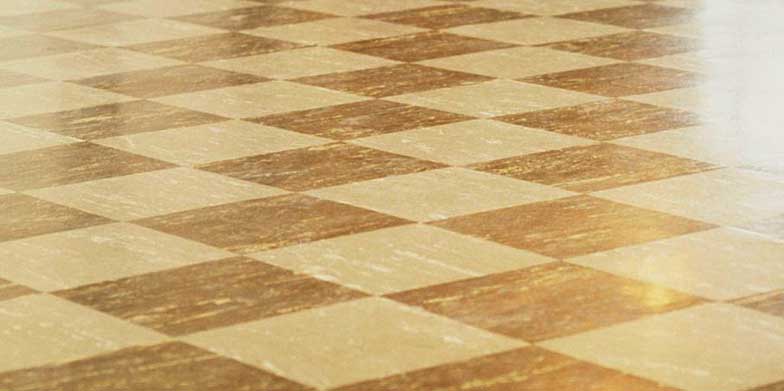 Fresh, dynamic and exciting, modern linoleum flooring products use age-old techniques and the latest technology to add a whole new range of technical qualities. An ideal combination of natural quality with resistance to heavy traffic is ideal for sectors from education to healthcare. With both compact and acoustic versions, modern linoleum can satisfy the most demanding requirements for appearance, function, cost and sustainability. Though Linoleum has been in the market for many years, it is still today very much famous due to its durability, eco-friendliness. The modern manufacturing methods have produced linoleum flooring in many varieties of styles and colors which makes them attractive options for professional and DIY designers. Linoleum floor tiles are resilient which means that they can get compressed and bounce back when you are walking on them. This offers a cushioning effect.
Linoleum is found in glue-down sheets along with snap-together tiles. They are made from completely natural renewable materials like cork powder, linseed oil, wood flour and pine resins. The limestone dust can be added for getting durability and hardness. The pigment dyes offer the linoleum flooring many patterns and colors which can range from vividly expressive to being subtle. Some of the manufacturers even add a protective layer to the linoleum which can help for protecting the flooring from fading up and scratches due to exposure to sunlight. In absence of coating, the linoleum can be waved and cleaned every three or two years for maintaining the luster. These flooring types are highly confused with vinyl floors but linoleum is much stiff compared to the sheet vinyl which can make the installation quite challenging. The linoleum sheet flooring offered by us guaranteed a time range span of 25 years and can even last for 40 years. Being made up of renewable materials, the linoleum is biodegradable and will not up space in landfills. They do not emit harmful VOCs. They can maintain their top-notch look as the pigments are throughout the thickness of the material and not just on the surface like the laminate and vinyl floor options. This helps for hiding the dings and scratches. They need very little maintenance and need just occasional damp mopping and sweeping.
VARIANTS
COMPACT
Wide and attractive range of colours and patterns available in different thicknesses offering surface protection for extreme toughness and ease of cleaning and maintenance.
ACOUSTIC
Sound reduction up to 18dB for a selection of colour designs with surface protection for a smoother linoleum mat appearance and improved performance.