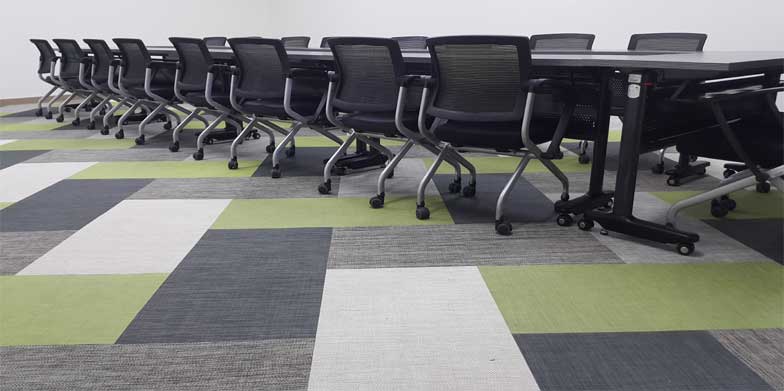 Our woven vinyl tiles are non-toxic, phthalate-free, and fiber glass–free fabric. This woven vinyl is very easy to clean, can be installed quickly, approved for heavy commercial use, silent and soft. The clean-cut finishing of the tile prevents fraying. Some of the advantages are listed below.
Slip-resistance can be achieved with a woven fabric surface. The colorfast properties retain gorgeous original color over time. Consistent flooring product thickness by patterns and size for mixing and matching different patterns. Our supplied range of woven vinyl floor tiles combines the remarkable durability of vinyl along with the aesthetic appeal and texture of conventional carpets. This together works wonders for transforming the interiors of your home to the next level. This trendsetting innovative product has been developed for the most demanding public areas like offices, hotels, restaurants, shops, healthcare areas, leisure facilities and other high foot traffic areas. They are offered with a thickness of 4.5mm.
Having a wide range of varieties, our portfolio comprises some of the most irresistible collections having young colors which shift among the shades of dark and light colors which depends on how the floor has been laid. They can offer grace to any interior environment with their linear design which can make the floor look vibrant. The unique weaving technique makes it stand out with the changing appearances which appear depending on the viewing angle. Our supplied range of woven vinyl flooring solutions has a wide range of color palette which can fit every personality and space. There are plenty of choices for every user. The colors are passionate and delightful. They are inspired by nature and can be ideal to give your interiors a minimalistic outlook. The neutral hues make them the first choice for people who are looking for exceptional structure and depth. The highly technical woven vinyl tiles are offered with comfort backing. This backing can improve the impact noise to 19dB and also offers better underfoot comfort with noise absorption.
Features
Diverse and unique floor designs available to choose from.
Sophisticated weaving structure in different thickness
Solid & profound color options
Comfortable and elegant feel
Areas of Use
Offices
Hotels & Resorts
Stores & shops
Restaurants
Corporate Sectors