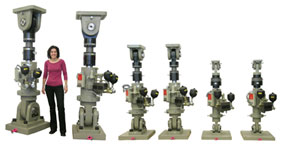 Dutco Tennant LLC is not just a leading supplier of various industrial and engineering products but it is also a complete solutions provider for the Middle East and GCC countries. We always like to keep our customers ahead of everything and always try our best to provide them with world-class solutions to fulfill their needs. We believe that each customer is unique and can have unique requirements for their projects. For that, we have made a team of experienced and qualified professionals who are recognized for their field of expertise. For the last four decades, Dutco Tennant LLC has been earning recognition in the Middle East and GCC region as a leader in supplying a wide and unmatched range of industrial and engineering solutions for diverse industry verticals ranging from construction, networking to electrical. We feel extremely honored to be engaged in various business deals with a high-status list of corporate and government projects and have been contributing to the infrastructural development of various nations.
With our dedication to quality and punctuality towards time, we have earned a place in the hearts of thousands of people worldwide. We have been honored with various awards and recognitions for our unmatched service.
We are always growing with our good company profile and have been identified in the worldwide market as a company which always meets the ever-evolving, newer demands of our customers. We actively collaborate with different contractors and suppliers for the supply of full-spectrum business solutions to fulfill the ever-increasing demand for top-quality engineering products.
We have pledged to make this world a better place by providing the best solutions while keeping in mind about environmental wellbeing and social responsibilities. To establish a long-term and competitive position in the market, we uphold high standards of performance. Dutco Tennant LLC works closely with its partners, manufacturers, and contractors to supply products that envisage more well-organized and sustainable uses of industrial resources.
Our product offerings are divided into broader sections called business units. In these business units, we have included all our services and products. Material Testing is one of our most specialized branches of business units. Under material testing, we have various products of Civil Engineering Testing Equipment. For structural Testing, Actuators are one of the most famous devices.
An actuator is a device that moves or controls some mechanism. A control signal is turned into mechanical action such as an electric motor by an actuator. Actuators can be used on hydraulic, pneumatic, electric, thermal or mechanical means, but are increasingly being driven by software.
Backlash-free static, quasi-static and dynamic (cyclic testing) material, component or structural testing in threshold or alternating loading.
Features
Wear-free Synchronous Actuators with hydrostatic bearings and optimized friction properties with stick-slip free movement also at very low and very high piston speeds.
Synchronous Actuators with integrated displacement transducer.
Differential Actuators with vibration damping.
Hollow Actuators with small guide play for high finish accuracy.
Rotary (Torsional) Actuators with optimized material selection and surface treatment.
Axial-Torsional Actuators for high lateral forces and emergency running.