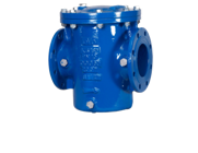 Dutco Tennant LLC is a world-class supplier of irrigation & landscaping products in the Middle East and GCC region. We have been supplying various water & wastewater products for the last four decades and with our unmatched quality and punctuality, we have been winning the trust of thousands of customers. We always look forward to bring out more advanced and innovative ways to serve our customers better.
Dutco Tennant LLC supplies various strainers including basket strainers and y-strainer from various world-class manufacturers. We have DVD Basket Type Strainers which are installed to protect system appliances, like pumps, flow meters, control valves, and regulating devices. These valves are used in Landscaping and Irrigation. Strainers are necessary components for a piping system which protects equipment from potential damage due to dirt and other particles that may be carried by the process fluid. During system start-up and flushing, strainers might be placed upstream of pumps to protect them from construction debris that may have been left in the pipe. Permanent Strainers may be installed upstream of control valves, traps, and instrument to protect them from corrosion products which may become dislodged and carried throughout the piping system. The Basket Strainers are defined as a closed vessel having cleanable screen element designed to remove and retain foreign particles down to 0.001-inch diameter from various flowing fluids. Basket strainers are designed for installation in horizontal lines and are commonly used for liquid service applications. Basket Strainers are mainly used where high flow capacity is required. They are also available in a duplex style consisting of two parallel basket strainers and diverting valves which permit diversion of the flow through one of the strainer elements while the other element is being serviced. This is an essential feature of Basket Strainers.
DVD Basket Type Strainers are installed to protect system appliances, such as pumps, flowmeters, control valves or regulating devices.
The main function is to remove foreign matter like leaves, sticks or stones from the pipelines. Foreign particles that can harm crucial appliances in the system are stuck in the filter of the strainer, and the user can check the blockage of the filter by using manometer connections.
In case of a situation where the differential pressure reading is high, the blow-off port is used to remove entrapped debris at the bottom of the body.
Due to its design, DVD Basket Type Strainers feature much bigger trap capacity compared to other types of strainers. Furthermore, service from the top cover enables a more shallow Valve Chamber, thereby decreasing the overall cost of the installation.
Specifications
Nominal Size 
DN100-DN1600
Nominal Pressure 
PN10-40
Face to face 
-
Body Material Options 
Ductile Iron
Carbon Steel
Stainless Steel
Nickel Aluminum Bronze
Accessories 
Davit Arm
Manometer Connections
Different Mesh
Flange Standards 
EN 1092/2
BS 4504
BS10E
ANSI