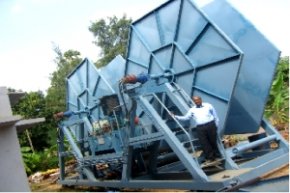 Dutco Tennant LLC offers a wide portfolio of Material Handling Systems. Our range of products and solutions for material handling system includes - conveyor care/rubber products, heat resistant, fire resistant and oil resistant conveyor belts, steel cord belts and special purpose conveyor belts. These products are made from premium quality raw material and are well known for their sturdiness and durability. We are famously known for delivering quality engineered products at economical prices. The material handling systems are available in various specifications to meet the demands of varied industries.
A conveyor belt should always keep running because the unexpected stoppage of conveyor belts due to poor maintenance or repairs creates a lot of loss in business by decreasing the productivity. Recent product and tool innovations offer new solutions that can save time without sacrificing the strength, consistency, and quality of the repair. Having the right tools on hand and applying basic belt repair safety guidelines can help make belt maintenance faster and easier, and help keep periods of downtime to the absolute minimum. Dutco Tennant LLC cares for you and your business and we are always growing and looking up for more advanced ways to help your business have an unobstructed growth.
Belt coiler and De-coiler which is also known as Belt Reeler is equipment which is used while commissioning a new belt and replacing the old belt with minimal effort. Such equipment has become an integral part for Pipe conveyor and long-distance conveyor installations with heavy-duty conveyors finding a place in the material handling sector. In modern conveyor systems, belt reel can weight as heavy as 60 tonnes and invariable demand suitably engineered equipment. Dutco Tennant LLC supply such tailor-made equipment with complete support service in the GCC and the Middle East region and have successfully supplied to various steel plants, mining industry, and oil refineries.
Our conveyor belt reeling machine is the most economical and efficient machine to handle the conveyor belt on-site and it is a single machine to suit your coil and de-coiling needs. Our machine can directly coil the belt from the conveyor with ease up to 4000 meters. With the shaft lock design, shaft loading and unloading are now more easy and safe. The machine comes with a fixed structure and also comes with a folding option for easy transport. This machine comes with a standard maintenance kit which will take care of all your maintenance needs.
FEATURES
Hydraulic or Electrical Drive configuration
Planetary reduction gear box to achieve desired pull speed
Forward and reverse drive for the belt rolls
Negative breaking for safety of operator and equipment
Optional disc breakers for added safety
Anti- friction bearings with hinged cover for shaft support
Stationery or Truck-mounted designs available