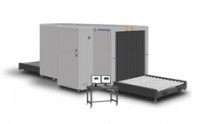 Astrophysics XIS-1818 200kV is a high capacity X-Ray Inspection System with extended tunnel dimensions 180.4 cm x 180.4 cm (71" x 71.1"). The XIS-1818 is designed for large cargo and pallet inspection at airports and seaports, but is ideal for any location where large scale security screening is required.
Featuring a heavy duty roller bed and rugged construction, the XIS-1818 200kV can support 2000 kg (4410 lbs). The XIS-1818 200kV consistently delivers outstanding performance and retains a high throughput value.
Matched with Astrophysics exclusive software and superior technology, the XIS-1818 200kV is the quality system for your large scale screening needs. *Also available with a generator output of 180kV or 320kV.
Specifications
Tunnel Size (W x H) :
180.4 cm x 180.4 cm/ 71.0" x 71.0"
Dimensions (L x W x H) :
731.2 cm x 289.7 cm x 235.7 cm/ 287.9" x 114.0" x 92.8"
X-ray Generator :
200kV