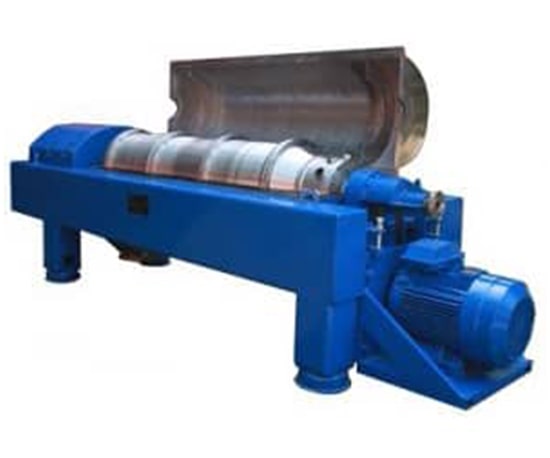 A sludge dewatering centrifuge uses a fast rotation of a "cylindrical bowl" to separate wastewater liquid from solids. The wastewater centrifuge dewatering process removes more water than other methods and leaves solid material that is known as cake. A decanter centrifuge (also known as solid bowl centrifuge) separates continuously solid materials from liquids in the slurry, and therefore plays an important role in the wastewater treatment, chemical, oil, and food processing industries. The most important function of dewatering of sludge is carried out most efficiently through this type of technology.
Centrifuges achieve separation by means of the accelerated gravitational force achieved by a rapid rotation. This can either replace normal gravity in the sedimentation of suspension or provide the driving force in the filtration through a filter medium of some kind.
The most common application is separation of solid substances from high concentrated suspensions. Used in this way for the treatment of sewage sludge it enables the dewatering with the production of more or less consistent sediment depending on the nature of the sludge to be treated, and the accelerated thickening of low concentration sludge.
Principle
The separation is similar in principle to that achieved in a gravity separation process. The driving force is higher because is resulting from the rotation of the liquid: in the case of sedimentation, where the driving force is resulting from the difference in density between the solids particles and the liquid, the separation is achieved with a force from 1000 to 20000 times that of gravity.
Types
Most centrifuges rotate thanks to some kind of motor drive. The types of centrifuge used for sedimentation include:
hydro cyclone
tubular bowl
chamber bowl
imperforate basket
decanter