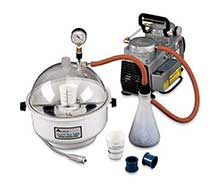 Cold Mounting system offers excellent pore impregnation in a compact format. As a result, edge retention is enhanced and friable samples are supported during grinding and polishing. Especially suited for mounting specimens that are sensitive to heat or pressure. Additionally, cold mounting does not require an investment in a mounting press and is therefore good for infrequent mounting tasks. A mixture of two or three components, the resin, is poured over the specimen after it has been placed in a mounting cup. After curing, the specimen can be taken out of the cup and processed. Three distinguishing types of cold mounting resins are available: Epoxy resins which are resins with short curing times and moderate shrinkage. The all-round materialographic resins. Polyester resins, which are economical resins with relatively short curing times. Room temperature curing epoxy system, particularly suited for vacuum impregnation and mounting very delicate specimens.
Mounting provides protection/support of the sample surface, making it easier to handle the sample, allows for several small samples in one mount and gives uniform sizes for clamping in a sample holder. Cold mounting resins cure through a chemical reaction. With us, we have two different systems available which both consist of two components that cure after being mixed together. Optimal edge retention and the best possible mount quality are provided by epoxy. It can also be used for vacuum impregnation of fragile and porous samples. Our epoxy system consists of a liquid resin and a range of liquid hardeners. A different advantage is provided by each hardener. Our acrylic resin is a fast curing, transparent system with a slightly yellowish tint. It consists of a powder and a liquid that cures in a few minutes. Due to complete visibility, without having to use a pressure pot, it is ideal for failure analysis and in the preparation of electronic components.
Dutco Tennant LLC was established with only one goal which is to provide the best service and fulfill the demands of our clients. Along with that, we have always adapted to the ever-changing demands in the field of industrial and engineering solutions. For the past four decades, we have been a leader in supplying various kinds of industrial and engineering solutions for diverse industry verticals ranging from construction to networking. We have been supplying products to a list of high-end clients and have contributed to the creation of world-class private and public infrastructure from water treatment plants, schools, colleges, hospitals, museums, airports, and offices.
Features
High Efficiency : The rugged vacuum pump supplies ample vacuum pull down to quickly evacuate trapped air from any porous specimen while the patented, high strength plastic chamber maintains vacuum throughout the impregnation period.
Optimized Pore Impregnation : The unique dispensing mechanism with a built in rotating turn table. Allows pouring epoxy while under vacuum.