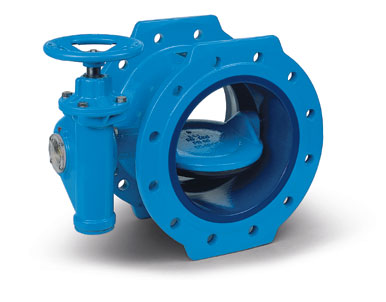 Double eccentric butterfly valves with flow-optimized design ensures minimized pressure losses and high energy-efficiency and are suitable for Extended service life and easy operation.
Polygon connection of shaft and disc provides uninterrupted corrosion protection and optimal torque transmission at the same time. Use of slider crank gearbox allows safe operation of butterfly valves with minimized pressure surges.
Most suitable for District Cooling Network Line and are available up to Size 1800 for Pressure rating of 40 Bar as a standard.
Features
Resilient seated according to EN 593
Face-to-face dimension according to EN 558, basic series 14 (DIN 3202 F4)
Flange connection on both sides according to EN 1092-2
Low headloss, minimized flow restriction and high energy-efficiency
Disc bearing in maintenance-free bushings, sealed by means of O-rings
Polygon-connection of shaft and disc without additional security elements required, closed bearing-eyes for uninterrupted corrosion protection
Corrosion- and wear-resistant overlay welded seat
Optimum corrosion protection by epoxy powder coating according to GSK guidelines
Standard actuation by robust and maintenance-free slider-crank gearbox, protection class IP 68, with integrated position indicator
Modular actuation concept that allows use of hand wheel, electric actuator, extension spindle, hydraulic drop weight actuator, pneumatic actuator or chain wheel
Features
Resilient seated according to EN 593
Face-to-face dimension according to EN 558, basic series 14 (DIN 3202 F4)
Flange connection on both sides according to EN 1092-2
Low headloss, minimized flow restriction and high energy-efficiency
Disc bearing in maintenance-free bushings, sealed by means of O-rings
Polygon-connection of shaft and disc without additional security elements required, closed bearing-eyes for uninterrupted corrosion protection
Corrosion- and wear-resistant overlay welded seat
Optimum corrosion protection by epoxy powder coating according to GSK guidelines
Standard actuation by robust and maintenance-free slider-crank gearbox, protection class IP 68, with integrated position indicator
Modular actuation concept that allows use of hand wheel, electric actuator, extension spindle, hydraulic drop weight actuator, pneumatic actuator or chain wheel
Technical Data
| | |
| --- | --- |
| DN | 150 - 1800 |
| PN | 10 - 40 |
| Body | EN-JS 1030 |
| Coating | Epoxy powder |