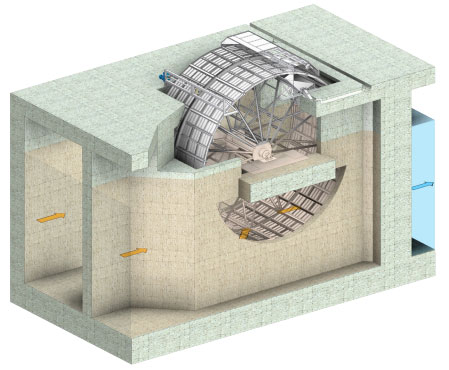 The Vertical Drum screen is designed with A-shaped spokes. These specially designed A-shaped spokes provide a light but robust and stable construction and also ensure a very accurate seal against the channel walls.
Vertical Drum screen is, due to this accurate seal, suitable for filtration with 2x2 mm.
The vertical drum screen is executed with a special ring gear and drive pinion, which are made of a special wear resistant polyamide.
The Vertical Drum screen is a rotating drum screen, provided with fine mesh screen panels. The dirt particles, which are trapped on the screen panels, will be removed by high pressure spray water and discharged through the trash hoppers.
The cleaning process can be executed automatically and semi-automatically.
Advantages
Light, but robust and stable construction
Large flow capacities
Resistant to corrosion
Reliable
Low maintenance
Water lubricated bearings
Environmental friendly
Long lifetime (30 years or more)
Fish removal system
Specification
Standard dimensions Capacity : between 10,000 and 120,000 m³/hr.
Mesh opening : between 2x2 and 10x10 mm.
Drum length : up to 5 m.
Diameter : between 5 and 20 m.
Material : stainless steel AISI 304/316/316Ti
Specific dimensions or materials on request.