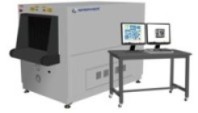 Astrophysics XIS-6545DV is a dual view X-Ray Inspection System with tunnel dimensions 65.0 cm x 45.0 cm (25.6" x 17.7"). Designed for high threat security locales, the XIS- 6545DV is ideal for airports, government, facilities, ports, hospitals, and banks.
The XIS-6545DV features dual X-Ray generators to create two different image perspectives which can be manipulated independently. By utilizing dual view technology, alongside 6 Color Imaging and Atomic Z-Number Measurement, the XIS-6545DV provides unparalleled threat identification.
Ultimately, the XIS-6545DV dual view x ray maximizes throughput and enhances detection in locations where time efficiency and high security screening is crucial.
Specifications
Tunnel Size (W x H) :
65.0 cm x 45.0 cm/ 25.6" x 17.7"
Dimensions (L x W x H) :
213.0 cm x 106.4 cm x 129.1 cm/ 84.0" x 42.0" x 51.0"
X-ray Generator :
Dual 180kV Generators, Operating at 165kV