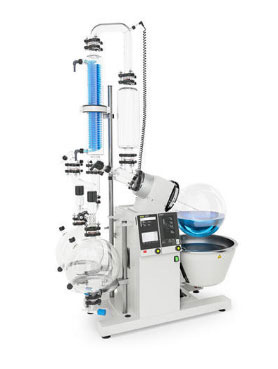 The Rotary Evaporator meets the highest expectations in convenience and versatility. Its modular design allows extension of the Rotary evaporator to a fully integrated system where a central interface regulates each component.
Features
Ergonomic handle to conveniently change the position of the lift.
The patented Combi-Clip with snap lock mechanism allows connection of the evaporating flask with one hand.
Immediate adjustment of rotation speed with intuitively positioned control knob in case of an urgent or unexpected event.
The heating bath temperature, rotation speed and lift position are shown on the integrated heating bath display.
Control and regulate all process parameters conveniently with the optional Interface I-300 or I-300 Pro.
Seven different glass assemblies enable a wide range of applications, solvents and sample properties.
Benefits
Convenient : Comfortable flask and vapor duct removal, User-friendly operation.
Extendable & Versatile : Easy plug & play extension to a fully integrated system including a central interface, vacuum pump and re-circulating chiller according to your needs.
Reproducible : Precise operation control with integrated digital display of heating temperature, rotation speed and lift position.
Application
Optimal temperatures Recommendation :  Set the bath temperature to 50 °C. Applying the Δ 20° rule results in 50/30/10 °C.
Immersion Angle Recommendation : Use standard position (25 °) for best efficiency without jeopardizing the sample.
Rotation Speed Recommendation : Use 250 to 280 rpm for maximum turbulence at high durability
Evaporating Flask Size Recommendation : Select a flask that accommodates approximately twice the starting sample volume.
Evaporating Flask Thickness Recommendation : Use 1.8 mm thick flasks (1 L) for best temperature exchange at high safety.
Products Covered
Evaporation solutions -Industrial Rotary Evaporator