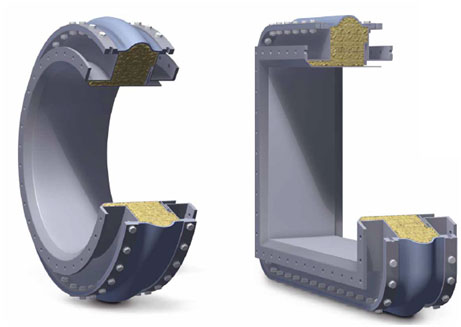 Design
Cylindrical, single or multi-arch elastomer or multilayer expansion joint with sleeve for clamp bar fixing
Optional expansion joint with installation seam
Optional external pressure support rings in the arch trough
Optional vacuum support rings
Application
Power plants, waste incineration plants, gas turbines, cement factories, paper industry, steel industry e. g. in exhaust pipes, in ventilators, in air ducts, in ash lines, in filter systems.
Specifications
Installation Method
Clamp bar fixing on duct angles
Dimensions
For round and rectangular duct cross sections
Installation length
= Installation gap + 2x fixing width
Individually according to customer specifications
Fixing Width
Depends on pressure and nominal diameter between 60 and 100 mm
Media Temperature
Depending on the height of the duct angle and duct lining, suitable for up to 1200 °C
Pressure
Up to ±0.25 bar
Higher pressures on request
Movement
For axial, lateral and angular movements
Benchmarks :
axial compression = approx. 0.25 x installation gap
axial extension = approx. 0.25 x installation gap
lateral displacement = approx. 0.20 x installation gap
In the event of axial extension and simultaneous lateral displacement, movements are reduced. For large lateral movements, we recommend presetting the duct against the direction of movement.