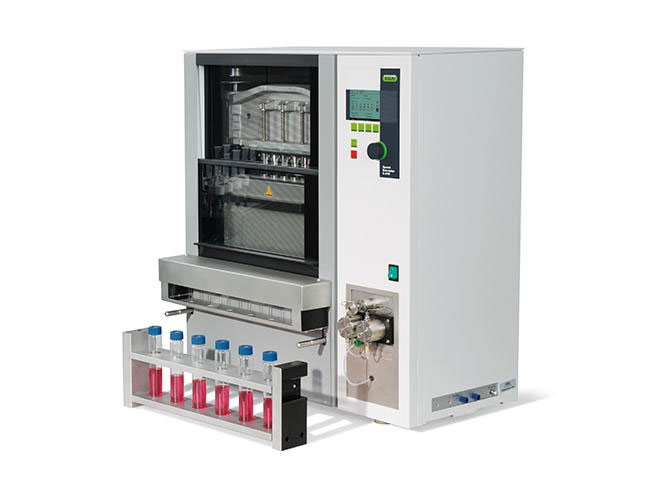 The Soxhlet Method is your best solution for fast Pressurized Solvent Extraction (PSE). Increase productivity by processing up to 6 samples in parallel. Streamline the workflow of your sample preparation thanks to ease of sample loading and ready-to-use extract collection.
Features
Parallel workflow for high throughput :  Significantly increase throughtput with the concerted parallel extraction and parallel evaporation
Automated sealing : The fail-safe and reliable extraction cells seal automatically using a unique sealing principle and guarantees reproducible results.
Extraction made easy :  Its operation is easy and intuitive. Apply an established method at the push of a button and extract simultaneously to up to 6 samples
Highest flexibility :  Extract your sample with optimized methods thanks to the flexible process parameters (30 - 200 °C; 50 - 150 bar) and the different extraction cells (E-916: 10, 20, 40 mL; E-914: 40, 80, 120 mL)
Reliable recording :  SpeedExtractor Record Software allows for managing and storage of methods, graphical visualization and documentation.
Wide application spectrum :  The wide temperature a and pressure range b, sample volumes from 1 to 120 mL c and the integrated mixer for up to 4 solvents d allow to extract reliably complex matrices with high recovery e of the analytes.
Benefits
Unrivaled Throughput
6 times faster than other PSE instruments thanks to parallel extraction concept
Extract up to 96 samples in an 8 hour shift
Accelerate the extraction process and facilitate final results within one working day
Reduce number of replicates due to identical extraction conditions for up to 6 samples
Ease of operation
Unique design of extraction cells allows for ease of sample loading and cell assembly
High level of automation saves time-consuming preparation and increases safety
Quick, fail-safe and reproducible operation due to assembly of only 4 sample cell parts
The automated sealing eliminates sources of error and guaranties safety standard
Low running costs
Complementary workflow and synergy with parallel evaporation and concentration
Collection vessels with appendix make extract transfer obsolete
Reduced solvent consumption and minimal need for consumables give lower running costs
Save energy and costs with ECO mode for automated heater control