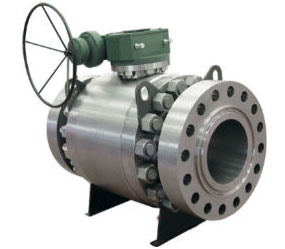 Floating valves are designed in accordance with ASME B16.34 and API 6D. Floating valves are available in pressure classes 150 to 2500 ASME, and in sizes ranging from ¼ inch to 10 inches. Available designs include one piece, two piece and three piece body configurations in both Forged and Cast materials with a variety of soft or metal seats. Special configurations which are available include 3-Way and fully jacketed body designs and Cryogenic and High temperature service fire safe capability. Floating ball valves are available in a wide variety of materials of construction including standard carbon and stainless steels, alloy 20, duplex and super duplex and the nickel based alloys such as monel, inconel and hastelloy. Floating ball valves are available with lever and gear manual operation as well as, a wide variety of pneumatic and electric valve automation systems.
Ball valves have many good points and are often considered superior to many other kinds of valves. Ball valves are very easy to use and can both maintain and regulate three things-high pressure, high volume and high flow of temperature.
Floating ball valves are normally seat supported and the seats are not self-relieving. Special designs are available for self-relieving seats.
Features
Internally mounted blow-out proof stem
Live loaded stem design meets stringent fugitive norms
Improved seat for long life and bubble tight shut off
Choice of seat material
Fire safe and antistatic design confirms to API 607
Designed to handle the most severe services
Design standard ISO 17292 and ASME B16.34
Materials of Construction
Body and Tail Piece
WCB, WCC, LCB, LCC, CF8, CF8M, CF3, CF3M, CD4MCu, CN7M, CD3MN
CN3MN, CW6M, and N7M, Other materials on request.
Ball
WCB with ENP, LCB with ENP, CA15, CF8, CF8M, CF3, CF3M, CD4MCu, CN7M
CD3MN, CN3MN, CW6M, and N7M. Other materials on request.
Stem and Gland
410, 304, 316, A20, 31803, Inconel, nickel alloys.
Seat
PTFE, RPTFE, nylon, Delrin , PEEK, Devlon, metal
Stem washer
RPTFE
Stem seal
Grafoil, PTFE
Body seal
Grafoil, spiral wound gasket with filler