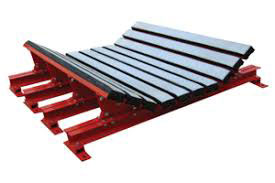 DTs Hercules Impact Cushion Pad is a combination of the salient features of Ultra-high-molecular-weight polyethylene (UHMWPE) and rubber. While the UHMWPE has features like high wear and abrasion resistance properties and very low co-efficient of friction, Rubber has features like high resilience, impact absorption properties and air has excellent cushioning properties.
Advantages
The unique cushion design provides higher impact absorption.
Since there are no moving parts, usual failures such as bearing seizure, shaft blends and housing internal damages are eliminated – reducing system downtime and maintenance.
Unlike the conventional impact idlers, the impact pad provides greater belt support area thereby increasing impact absorption and lessening the intensity of impact loads on to the belt. This drastically reduces the damages like puncturing and tearing the belts.