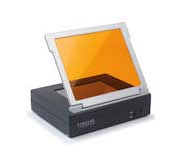 The Imaging Systems for DNA is dedicated to chemiluminescence imaging. This system is built for high performance and automation and now features a next generation high quantum efficiency Syngene CCD camera for even greater sensitivity. A very simple set-up process means a single 'click' will automatically capture a quality image of any Western blot .
Western blot imaging has never been so easy before. The system automatically selects the right imaging conditions for any blot irrespective of the chemiluminescent reagents being used. All chemiluminescence applications can easily be handled by it and can produce superb images even from the faintest of signals.
The compact instrument sits on any laboratory bench taking up very little space. This system requires an external PC for use.
Products Covered
Gel Documentation System
UV Transilluminator
TLC Plate Imaging System