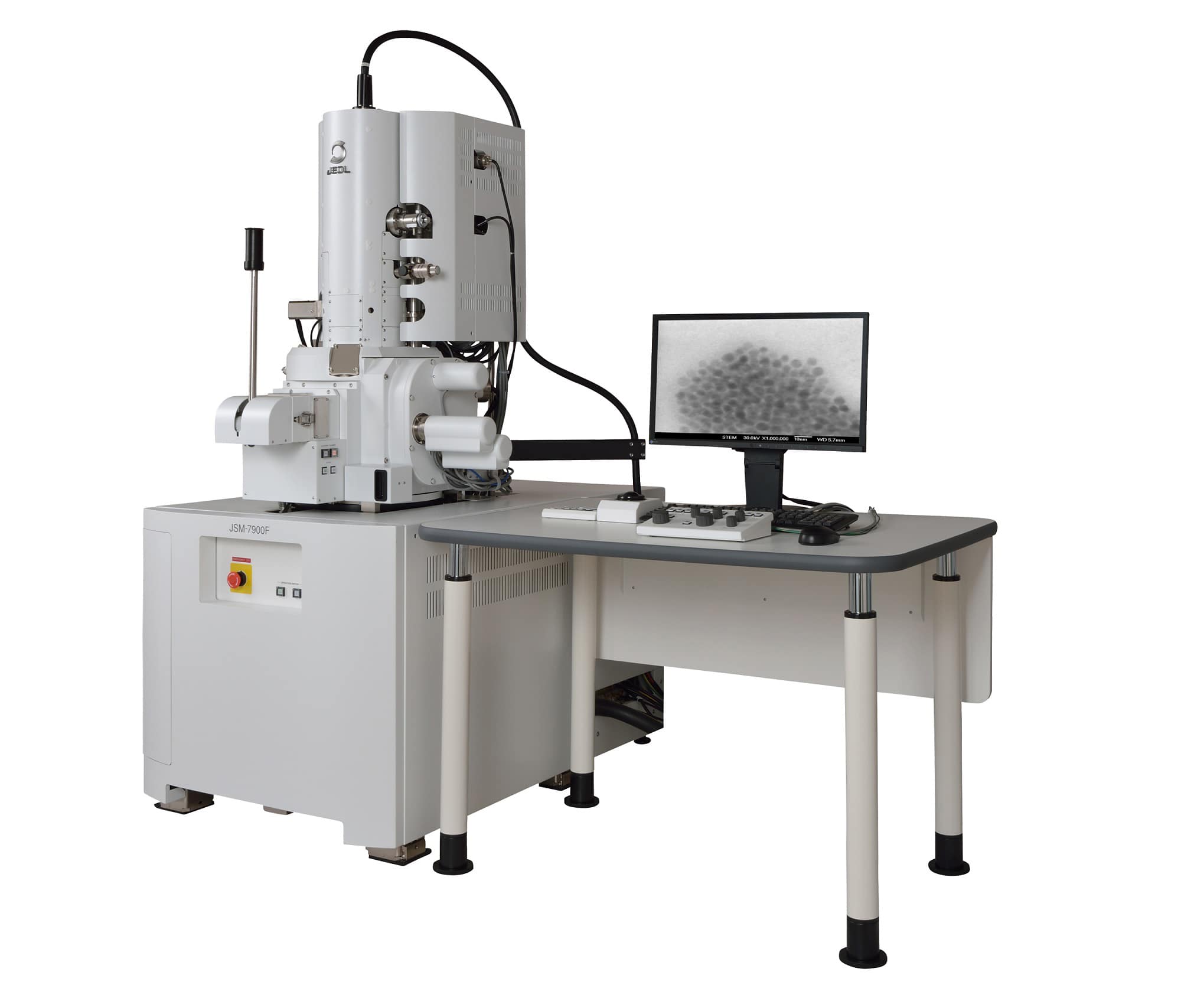 The JSM-7900F Field Emission SEM is a uniquely flexible platform that combines the ultimate in high resolution imaging with unparalleled nano scale microanalysis. This tool excels in lightning fast data acquisition through simple and automated operation.
The JSM-7900F is equipped with a large specimen chamber that accommodates a wide variety of detectors simultaneously, including: multiple EDS, EBSD, WDS, STEM, BSE, and CL. A new Soft X-ray Emission Spectrometer (SXES) allows efficient and parallel collection of very low-energy rays with chemical state analysis. The system can also be equipped with a variety of sub stages including tensile, heating and cooling stages for in situ experimentation. For analysis of non-conducting specimens, the JSM-7900F/LV is available with variable pressure.
At the heart of this premier microscope is the new electron optical system, NeoEngine, that significantly enhances alignment accuracy, optimizes probe diameter at all conditions, and simplifies observation for all levels of operators. The new Gentle Beam Super High mode (GBSH) enables a bias voltage of up to 5 kV to be applied to the specimen stage, which decreases charging on nonconductive specimens, improves spot size at low kV, enhances surface topography, and enables high resolution imaging at extremely low voltages.
Applications include imaging and analysis of metals, magnetic materials, semiconductors, ceramics, medical devices, and biological specimens.
Features
Resolution: 7 Å @ 1kV, 6 Å @ 15kV, 6 Å in STEM
Analytical resolution sub 30 nm scale
Probe current >500nA
High sensitivity BE detector providing exceptional performance at low accelerating voltages
Ultralow kV in-lens detectors
GBSH-S (GENTLEBEAM™ Super High mode) enabling high resolution imaging at extremely low accelerating voltages (down to 10V)
In-lens Schottky Plus field emission electron gun and low aberration condenser lens provide higher levels of brightness.
Super Hybrid Lens (SHL), a combination of electrostatic and electromagnetic lenses, to support ultra high resolution imaging and analysis of various samples ranging from magnetic materials to insulators.
Ample probe current is available at low accelerating voltage, supporting various applications from high resolution imaging to high speed elemental mapping.
A new sample exchange system is designed to change samples in a safe, speedy, seamless manner through simple operation.