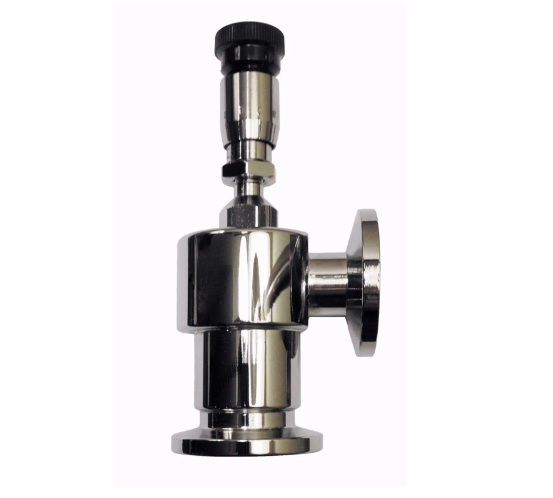 From sniffer probes to helium spray probes and test chambers, find the accessories you need to improve your test process.
Sniff & Spray Probes for Leak Detectors
The rugged Agilent sniffer probe offers fast response and cleanup. Its adjustable flow allows you to tailor performance to your instrument and for your required test sensitivity.
HLD Wireless Remote Control for Leak Detectors
Leaks in large systems often occur far from the leak detector. By utilizing modern wireless technology, leak testing hard-to-reach locations is now much easier and can be performed at much greater distances – up to 100 meters, far superior to Bluetooth devices.
In addition to the visual bar graph of the leak rate, the remote control has a speaker that provides a variable tone indicating the trend and relative size of the leak. All the major functions of the leak detector are at your fingertips, giving you a truly portable leak detection solution.
Calibrated Leaks for Leak Detectors
Agilent offers a wide range of calibrated helium leaks. While a helium mass spectrometer's internal calibrated leak insures the accuracy of the instrument, the only way to calibrate an entire system is by mounting an external calibrated leak.
Spectrometer Cleaning Kit for Leak Detectors
Using the wrong cleaning solution can wreak havoc on your instrument's sensitivity and stability and shorten filament life. This spectrometer cleaning kit leaves no residue and will keep your instrument operating at peak performance.
Test Fixtures for Leak Detectors
Used in conjunction with the Auto Sequencer mode of our Helium Leak Detector, a test fixture, also referred to as a flapper box, improves the efficiency of a sealed part test.
Closing the spring-loaded lid automatically initiates the test. At the conclusion of the test, the lid will open if the part passes the test. If a leak is detected, the lid remains closed and requires a manual vent to insure that failing parts are set aside.
Harsh Environment (HE) Probe for Leak Detectors
Heat exchangers like those in power generation facilities require a leak detector to sample gas that is primarily water vapor (steam) that can damage the instrument. To prevent this damage, Agilent has developed a specialized probe tailored to the demanding requirements of these applications.
The Harsh Environment (HE) Probe is designed to withstand the moisture and high temperatures inside condenser piping, without the need for dryers, chillers, a secondary vacuum pump, or throttling valves. The probe can either be positioned at the exhaust of a pump on the condenser system, or flange-mounted directly into the piping of the system under test.
Throttle Valves for Leak Detectors
In some vacuum leak testing applications it is not possible to achieve a low enough pressure to permit the instrument to get into test mode. In these cases, a throttle valve permits sampling a partial flow of gas from the test volume. This can reduce test time and avoid the need for larger vacuum pumps.