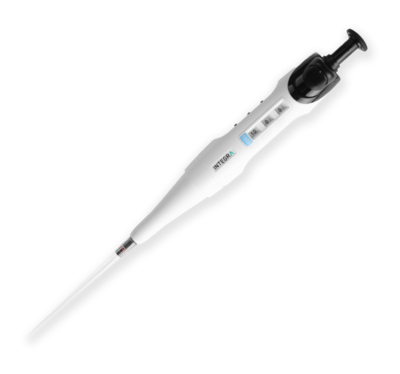 The Manual Pipettes features three adjustment dials to rapidly set volumes. This revolutionary approach reduces repetitive stress injuries and allows users to set volumes in a fraction of the time it takes with a traditional manual pipette. Manual pipettes together with INTEGRA's wide range of Grip Tips form a perfect pipetting system. Grip Tips snap into place with minimal tip loading force, providing a secure connection. Grip Tips never fall off and are perfectly aligned, ensuring the precise touch off of fluid resulting in superior pipetting performance.
Features
The three dial design is the same convenient method used to unlock three dial combination locks. This approach allows users to set volumes more than ten times faster than standard manual pipettes.
Storing pipettes upright is important to prevent liquid or debris from entering the tip fitting. The INTEGRA linear stand is ideal for hanging EVOLVE pipettes up off the lab bench. Up to twelve manual pipettes can be placed on a linear stand.
Users can add up to four charging/communication stations to convert the linear stand into a charging option to charge any INTEGRA electronic pipette.
EVOLVE shelf hooks are also available for proper storage.