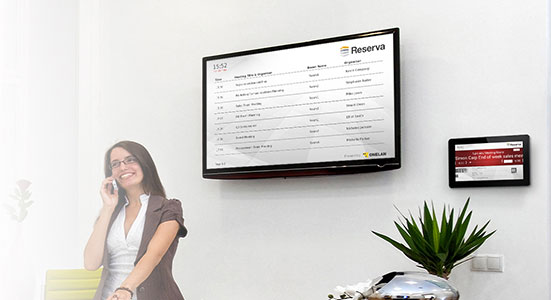 Designed with simplicity in mind, Reserva can be installed as a standalone system with no big upfront costs. The easy to use Reserva Connection Manager application is installed on a networked PC or server and gives you complete control over the room signs. You can connect to multiple calendars or timetables and apply different configurations to specific, or groups of room signs.
Reserva has been developed with scalability in mind and has been tested for up to 800 meeting room signs.
Features
Customizable : Make your room signage your own with our customization services. This includes the ability to add your organization's branding to the content and to choose an appropriate background style.
Digital Signage : Reserva Room Signs can be used to show other content alongside the meeting room information. This can include employee communications, brand reinforcement or advertisement.
Range of Screen Sizes : Pick the room sign to match your space, whether that's a small 7″ display for a huddle area or a 15.6″ screen for a large auditorium. Reserva Room Signage is available in 7, 10.1, 15.6.
Product Type
Interactive meeting room booking system