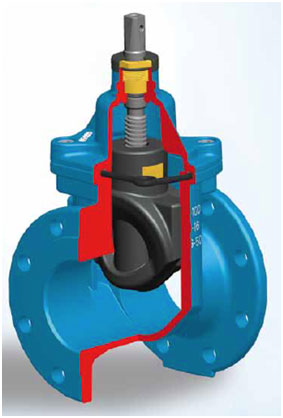 Descriptions
Body and bonnet in spherical graphite cast iron EN-GJS-500-7 (GGG-50), with blue Ral 5015 epoxy powder coating electrostatically applied.
Wedge in spherical graphite cast iron EN-GJS-500-7 (GGG-50), fully coated as standard by EPDM, or NBR (DVGW) upon request. Wedge lock nut in copper alloy with great resistance to corrosion. Other materials available: CZ132 high resistance to dezincification, or aluminum bronze.
Stem in stainless steel AISI-420 (X20C13) as standard. Other materials upon request such as AISI-316 (X5CrNiMo1713), AISI-316L (X2CrNiMo1712), etc… The watertightness through the spindle is obtained with three o rings. These are independent pieces, and they can be replaced with the valve under pressure and in fully open position. Spindle dustguard to avoid impurities.
Body-bonnet gasket in EPDM as standard or NBR (DVGW) upon request. Body-bonnet bolting in carbon steel quality 8.8, dimensions according to DIN 912 with GEOMET anticorrosive coating and with seal protection. Upon request it can also be manufactured in stainless steel A2 (AISI-304 / X5CrNi18 10) and A4 (AISI-316 / X5CrNiMo1713 3). Standard operation is clockwise closing (CWC), upon request valves can be supplied clockwise opening (CWO). Gate valves are supplied with handwheel in stamped steel, or square cap in EN-GJS-500-7 (GGG-50) for 30x30 T-key. They can also be operated with gear-box, electric, pneumatic actuator and extensions.