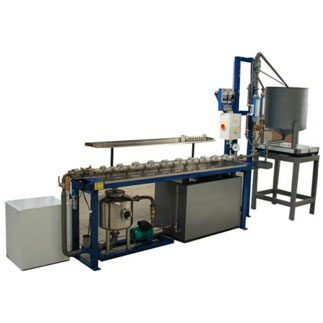 Suitable for meters complying with the European directives 75/33/EC and 79/830 EEC and with standard ISO 4064.
Meet the requirements of ISO 4064, EN 14154 and OIML R 49 for initial verification tests, and OIML R 75 and EN 1434 for flow sensor initial verification tests.
Are designed to achieve maximum accuracy and constructed to comply with the international standard ISO 4185.
Are designed to achieve a combined measurement uncertainty of less than 0.2% (2 standard deviations) at typical volumes.
The base measurement capability of the measuring assembly is better than 0.06%.
Quality Assurance System is approved according to ISO 9001.
Components of the measurement system—such as scales, flow meters, thermometers, pressure gauges—having influence on measured value were calibrated and are traceable to national standards using units of measurement in conformity with the International System of Units (SI).
Scales have a resolution in conformity with EEC Directives 90/384 and 89/336.
Are being used in accredited test laboratories according to ISO 17025.
All stainless steel parts are of high quality ÀISI 304 (AISI 316L).