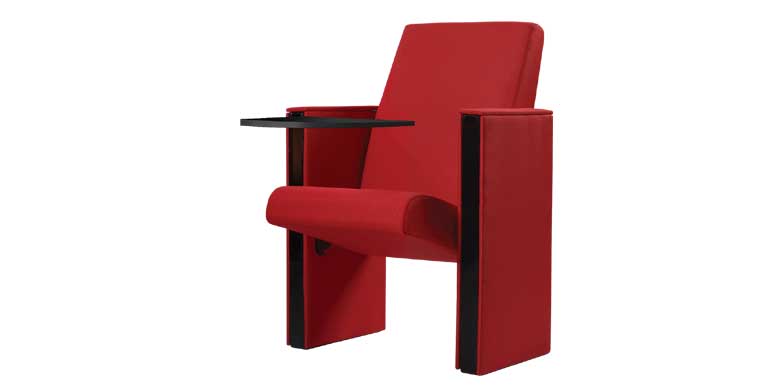 The scope of our supply in Construction Specialities includes architectural finishing products, flooring products, seating solutions, and sports & leisure products. Construction Specialities is one of our most expert and advanced branches of service offering. For the last four decades, we have been working closely with various public and private organizations in the Middle East and GCC region and have contributed to the architectural development of various schools, colleges, hospitals, industrial plants, airports, museums, shopping malls, etc. We have been trusted by thousands of customers because of our unmatched quality and service.
We have been providing various seating solutions to match the diverse demands in the market such as cinema seating, stadium seating and retractable seating. Our seating systems are made using various technical features and multi-tiered platforms which use little space and provide a comfortable seating position. These seating systems offered by us meet various standards of audience protection, sturdiness, and easy safeguarding. People gather at the Auditorium in a shared experience, this can be work, entertainment or learning. Every venue is unique and as the leaders in supplying exceptional seating solutions, we can adapt and personalize the seating solutions for reflecting your design and brand very briefly. Users will be seating in the auditorium seating for long time periods having discomfort which is one of the biggest complaints about cinema and theatergoers. The ergonomics of the seat has been designed with the help of pressure mapping technology for enduring the maximum pressure distribution and the highest level of support and comfort in the specialist foams and the construction methods which we are using. Our lecture seating can meet exactly your requirements for creating a completely bespoke package. These seating systems can be fixed securely over existing tiering or any flat or slopping floor area as needed. We can supply you with any tiering structure required exactly like your project. Our extensive range of solutions is available readily for allowing you to completely create the look that you like. They have been designed to offer you unmatched comfort at every step. We have an exceptional futuristic range of solutions.
For auditorium/lecture hall seating ranges our focus is to provide maximum comfort in less space. Our systems come with modern design and technically advanced features to include modern voice aids. We have solutions for sporting needs and we also offer a wide range of bleachers and benches for any field activity in a different dimension, fashion, and colors that can be used in colleges, universities, schools, & sports stadiums. Dutco Tennant LLC supplies different seating solutions such as bleacher seats, lecture hall seating, retractable seating, & auditorium seating for different indoor and outdoor places such as colleges, universities, schools, stadiums, airports, hotels, and various other places. You can get in touch with us if you want these seating systems for your projects anywhere in the Middle East and GCC region.
The auditorium/Lecture Hall Seating range is well known for its modern design and technologically advanced features. This range provides the necessary support for maximum comfort. The center pedestal and elegant pedestal gravity-fold-up seats make the seat simple and easy to clean. The large seat, armrests, and ergonomically contoured backrest with good lumbar support provide comfortable seating for many hours. We offer a great seating solution for performing art auditoriums, suites, and sports arenas. It features a minimalistic upholstered seating surface with elegant exposed wood outer structures. Taking form and function to the next level, we provide a seating range with tablet arms – for writing, laptops and more. Altogether, our seating experience is an unforgettable moment that integrates style with highly advanced functionality.