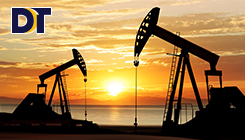 Dutco Tennant LLC understands the complex and diverse demands of customers for marine offshore oil & gas industries and has been providing the best in class solutions for the last four decades. We believe that a single company cannot provide all the solutions so we work and set alliances with major equipment, product and service providers to offer a network of solutions and services to fulfill the wishes of our valued customers. With our unmatched quality and service, we have been winning the trusts of thousands of customers worldwide.
We have a team of specialist engineers supported by internationally renowned suppliers who can provide a complete range of equipment for exploration, production, transportation, storage, refining and processing, and distribution. We have been trusted by various oil operating, refining, storage, transportation, and distribution companies in GCC and have been successful in implementing various major equipment supply contracts. Our tank farm products are designed to protect tanks from rupture or implosion during filling and/or emptying cycles and also limits product loss and environmental discharges while also protecting tanks during thermal changes. We have various essential products range for tank farms and other large vessels like Emergency Relief Vents & Access Manways, Free Vents, Automatic Recirculation valve, Pressure & vacuum relief valves, tank blanketing valves, Air eliminator, Flow control valve, and Sight glass, etc.
An automatic recirculation valve is a multifunctional valve whose primary purpose is to ensure that a predetermined minimum flow is assured through a centrifugal pump at all times. This is important as centrifugal pumps suffer from overheating and cavitation and can be permanently damaged if they run dry. The automatic recirculation valve offered by us has a unique design whose performance has been perfectly enhanced through simulation and joint research. These valves automatically protect centrifugal pumps during a low load operation. The valve's disc moves towards its seat and causes the bypass bush to open a bypass flow when the load of the pump drops below a preset flow rate.The most common application of these valves is to protect pumps which handle hot water for boiler feeding or cooling water plants in which partial evaporation of the water content might otherwise cause the pump to run dry. It is widely used in the Power, Paper and Pulp, Maritime, Refining, and Chemical industries.
Salient features :
Unique design
Combines both check and bypass features
Proprietary Cv calculation system
Minimum flow protection
No external actuation required