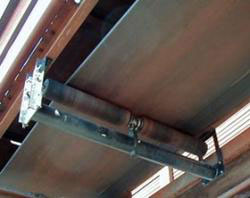 Dutco Tennant LLC has gradually developed as a major provider of heavy-duty plant and equipment in the Middle East and GCC region through old fashioned know-how or cutting edge technology. Dutco Tennant provides applicable and complete solutions; solutions that reflect its deep understanding of the products, its markets and the ever-changing needs that its customers face. This sector is both far-reaching and complex and requires extensive product training and application knowledge. Dutco Tennant has taken up this challenge and offers a comprehensive range of products including lubricants, bearings, conveyor products, heat exchangers, industrial dampers, sealing products, air slides, heat, fire, and oil resisting conveyor belts. Our array of material handling systems includes conveyor care/rubber products, heat resistant, fire resistant and oil resistant conveyor belts, steel cord belts and special purpose conveyor belts. These material handling systems are made from premium quality raw material and are well known for their sturdiness and durability.
Transfer points are necessarily important to the efficiency and productivity of any conveyor system, but they are also highly complex from an engineering perspective. Our transfer point solutions are designed to be effective over long work life, even under the most demanding conditions. Our products will offer better efficiency, safer operations, less wear and tear on equipment, minimal dust issues, and fewer stoppages for cleaning.
Dutco Tennant LLC is a leading supplier of engineered conveyor care products in the Middle East and GCC region and has developed fundamental principles in belt sway which take a new approach in Belt Tracking System. A belt tracking system keeps the belt in alignment with automatic continuous adjustments. In the belt conveyors offered by us, there is quick-acting automatic belt tracking roller system present which counters the wandering of the belt. They are to be mounted on the return side of the belt conveyors. This equipment keeps the belt in alignment with automatic, continuous adjustments. The improved tracking reduces edge damage, spillage, and maintenance expense. The continuous precision adjustment of the patented parallel steering/training system keeps the belt tracking properly.
Advantages :
Low Maintenance.
Reduced Spillage & wastage.
Increased Production & Reduced downtime Compact Design & Easy Installation.
Durable and long-lasting systems
The unique 'Pivot' belt mistracking mechanism will activate automatically once there is any sign of belt misalignment problem during operation. All it requires is to replace one of the existing idlers at the belt mistracking area.
Features
No lubrication need and it works on the pressure of the belt when it goes off-center.
Belt Track is site-proven device that kick-in immediately and steer the belt back in-line.
State-of-the-art built in design assure a durable long lasting trouble free operation.