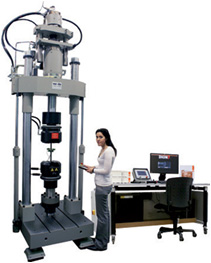 Dutco Tennant LLC is a famous mechanical testing equipment supplier which provides leading quality Dynamic testing equipment. We have the capability and supply of correct equipment to meet your unique requirements of latest-technology products. The company is a leading dynamic testing equipment supplier in the Middle East and GCC region. Dutco Tennant LLC offers incredible quality mechanical testing equipment like dynamic testing. For decades, we have been successfully offering solutions for dynamic testing machines. We have only one goal and that is to serve our customers with the best in class solution for all their needs. We value our customers and feel that every customer can have a diverse and unique need depending on their project requirement. We are always growing and collaborating with various manufacturers globally to serve our customers better each time. We supply various things Quality solutions like from a compact servo-hydraulic tabletop testing machine to a multi-axis test portal in the big power range - we can provide solutions to meet your various challenges. With testing systems, our product portfolio includes specimen grips, measurement and control electronics, testing software, and various other hydraulic components. We provide Fatigue Testing Machine, High-Temperature Testing, and Biaxial Testing which you can generally use to do capacity testing easily. You can use our machines to evaluate changes in material, design, and manufacturing processing with ease. We have with us testing machines capable of applying constant, variable, or programmed sequences of load and motion.
Because of their unique ability to generate in-plane stresses that replicate multiaxial real-world stress states, planar biaxial test machines are getting popular among the consumers. Each planar biaxial system includes four actuators mounted opposite to each other on two axes with each actuator independently controlled by a four-channel servo controller which ensures independent and synchronized control of motion, strain or load. Each actuator is controlled to work with the other three actuators to replicate desired biaxial stresses. We offer various solutions for biaxial materials testing. Our materials testing machines with torsion drive enable fast, precise biaxial testing or components up to 10,000 Nm. In addition to tests on artificial ball-and-socket joints and bone –replacement material, torsion tests are also performed on items such as clutch plates, steering shafts, and camshafts. Ideal for simulating real-world conditions, Dutco Tennant LLC offers both planar biaxial and axial-torsion test systems. We also offer a dynamic fatigue axial-torsion tester capable of performing tests to 15 Hz. Our planar biaxial test systems are engineered to your sample size, elongation, and test speed and force specifications.
Features
Double ended, equal area linear actuator with hydrostatic bearings for the best friction free static and dynamic performance, allows high side-loads and emergency running, integrated in the upper or lower crosshead to shorten the force train. With displacement transducer.
Dynamic rated torsion drive closed coupled to the axial actuator.
High precision angle transducer.
One-chamber-design, High stiffness construction, precision aligned, inductive hardened, grounded and chromium plated columns.
Servo-valve manifold platen mounted direct on the actuator for the highest possible response and most accurate test control.
Close coupled accumulators to minimize hydraulic pressure fluctuations.
High precision fatigue rated biaxial load cell for static and fatigue tests fixed on the upper crosshead, lower t-slot base platen or piston rod end for testing of components.