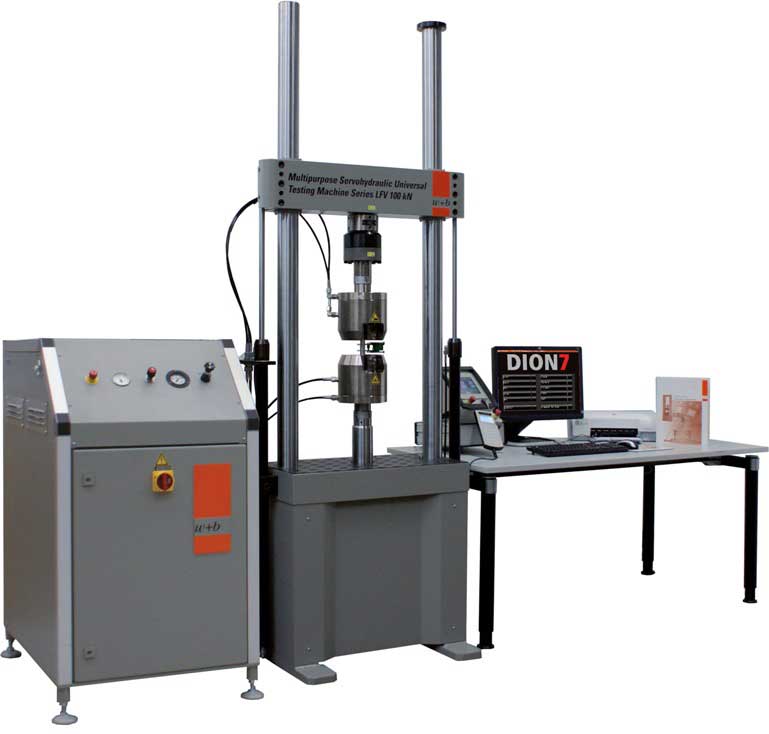 Designed to evaluate the mechanical properties in static, quasi-static and dynamic (fatigue) loading of materials, components, manufactured assemblies or finished goods.
The reliable servo hydraulic frames combined with latest digital control system, software and extensive range of accessories turn these machines into flexible and most innovative systems. The fatigue testing system are available with actuator mounted in the base of the machine for materials testing of standard samples and fracture mechanical studies or with actuator on top with integral T-slot platen providing the ultimate flexibility suitable to fix grips or fixtures, components, specimens, manufactures assemblies or finished goods.
Features
Hydraulic adjustable upper crosshead to facilitate quick, easy, and accurate positioning with passive clamping system and adjustment by two long stroke actuators.
Equipped with integral T-slot platen suitable to fix components, specimens or manufactured assemblies.
Chrome plated and hardened columns for easy cleaning and longest life.
High quality actuator with hydrostatic bearings for the best static and dynamic performance in different specifications to depending on application.
Actuator available with integrated displacement transducer and with anti-rotation system to prevent the natural tendency to rotate.
Manifold is attached direct on actuator providing close-coupled servo-valve and accumulators for improved performance and reduced pressure fluctuations.
Precision flat load cell mounted on piston rod end and displacement transducer.
Applications
Fatigue Crack Growth Testing
High Temperature Testing
TMF - Thermo Mechanical Fatigue Testing
Steel Testing
Asphalt Testing