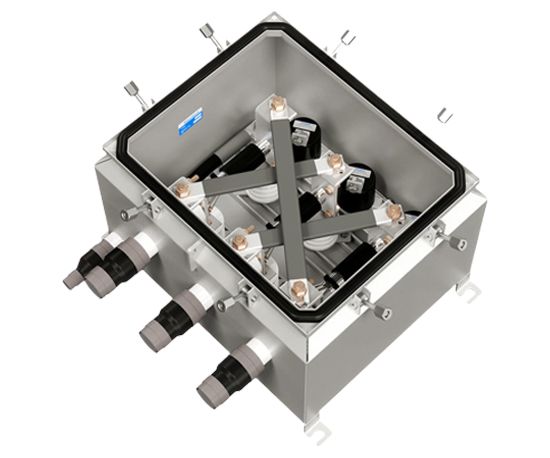 Insulect manufacture a comprehensive range of fully-tested stainless steel link boxes for high voltage underground cables.
Insulect link box designs use various earthing practices to minimise sheath currents and provide sheath voltage protection.
Direct Earthing or SVL Earthing through sheath voltage limiter surge arrester.
Cross Bonding with insulation withstand between phases.
Cable Sheath Protection using metal oxide sheath voltage surge limiters (SVLs)
Available in two models:
LINK BOX ULTRA
ULTRA is our original Link Box design, built for demanding conditions and highest performance.
Material 316 Stainless Steel
Short Circuit 63 kA/1s
Enclosure rating IP68
Internal power arc 40 kA/0.12s
Pressure test meter 10M
LINK BOX LITE
The LITE is designed for for less arduous applications and where ease of handling and install is important.
Material 304 Stainless Steel
Short Circuit 40 kA/1s
Enclosure rating IP68
Internal power arc 20 kA/0.12s
Pressure test meter 2M
Features
COMPREHENSIVE RANGE: Link boxes of all types for single core and concentric bonding cables
ABOVE OR BELOW GROUND Universal design to suit indoor, outdoor and in-pit installation
UP TO IP68 ENCLOSURES Fully tested and fully sealed stainless steel enclosures, rated at a minimum of IP68
AUSTRALIAN DESIGN AND MANUFACTURE Our link boxes have been designed, manufactured and tested in Australia for over twenty years
ALL EARTHING PRACTICES Direct earthing, SVL earthing, cross bonding, cable sheath protection
SPECIFICATION
The Insulect range of Link Boxes includes two models - Ultra and Lite - and numerous variants to suit all underground cable applications and network requirements.
Our link boxes ensure a weatherproof environment for connecting links, whether for earthing or cross-bonding high voltage cables.
Link Boxes are part of our wider Switch gear product range, which includes switch gear for substations, overhead distribution and underground cable applications.