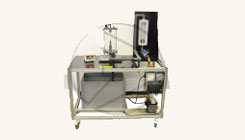 Fluid mechanics is a branch of classical physics that is concerned with the mechanics of fluids (liquids, gases, and plasmas) and the forces on them. It has a wide range of applications, including mechanical engineering, civil engineering, chemical engineering, biomedical engineering, geophysics, astrophysics, meteorology, and biology. It can be divided into fluid statics or hydrostatics and fluid dynamics. Fluid mechanics, especially fluid dynamics, is an active field of research with many problems that are partly or wholly unsolved. We supply a wide range of applications to allow to study and practice with the basic principles of hydraulics. With over four decades of experience, we are highly trusted for all our products which perform with grace every time.
The fluid mechanics range offers a wide scope of teaching equipment for the delivery of complete courses in fluid dynamics. In many settings, the modular digital hydraulic bench acts as the base unit, allowing tutors to swap out individually mounted experiment modules on these self-contained benches, reducing lab set-up time, lab space requirement, and cost.
The impressive flow and sediment channels for demonstrating the mechanics of flow also enable the practical teaching and demonstration of phenomena such as critical and subcritical flow, hydraulic jump, sand dune formation. There are many ancillaries available for use with the flow channels enabling them to be used as both teaching and research aids.
Within the fluid mechanics range there is equipment for demonstrating Bernoulli's theorem, the function, and dynamics of weirs, pressure and flow measurement, pipe friction and energy loss, and much more. We are known among our clients as the leading manufacturer and supplier of fluid machines laboratory equipment. Our expert team is always involved in testing these products as per the international standards of quality to ensure better performance with precision and accuracy. Our range includes fluid machines laboratory equipment, hydraulics, and fluid machines lab equipment and many more. To make sure that our clients are satisfied with the end product, we also customize these products if need be.
Our Solutions enable students to safely investigate the fundamentals of Fluids, airflow, and simple aerodynamic experimental procedures. The extensive range of optional accessories allows investigation of Bernoulli's equation, drag forces on various shapes, Investigation of a turbulent jet, investigation of boundary layer development, the pressure distribution of flow around a bend, fan performance characteristics, jet attachment, pressure distribution around a cylinder, pressure distribution. Flow visualization, flow in pipes.
Dutco Tennant LLC is a leading supplier of industrial and engineering solution in the Middle East and GCC region. For around four decades we have been leading the industry and have been working closely with a list of high profile corporate and government projects and have contributed behind the creation of world-class infrastructure ranging from waste and wastewater projects, airports, exhibition centers, shopping malls, networking structures, hospitals, hotels, and offices.
Hydraulics Bench
The hydraulics bench is mounted on lockable castor wheels and is constructed around a sturdy framework onto which all elements of the hydraulics bench are mounted. The main water storage tank from which the electrically operated external pump takes its water is situated on the framework. An on/off control on the front of the frame, together with a safety cut out controls the pump.
The storage tank is also used as the main drain of water from the relevant detachable modules of the HB series. The water is pumped into the modules and then allowed to flow/drain back into the main tank via hoses and pipework. The storage tank has a secured lid to keep dust and debris out. The pipe work connecting the storage tank and the modules ensure a closed system, which minimises the local water requirement but allows large flow rates and pressure ranges to be accommodated.
Airflow System Base Unit
The Hilton Airflow System and its range of optional accessories enable students to safely investigate the fundamentals of airflow and simple aerodynamic experimental procedures.
The unit consists of a small footprint, high volume high pressure centrifugal fan with adjustable flow control, inlet and outlet couplings. The Hilton Airflow System is available with an extensive range of optional accessories that makes the unit a very flexible and economic investment.
A small footprint, high volume high pressure centrifugal fan with adjustable flow control, inlet and outlet couplings. A comprehensive range of optional accessories are available that may be connected to the fan inlet, outlet or both as required.
Flow Visualisation Investigation
A smoke generator generates a visual oil mist that is introduced into the airstream ahead of the test shape through a number of fine nozzles.
The resulting smoke filaments clearly show streamlines around the test shapes.