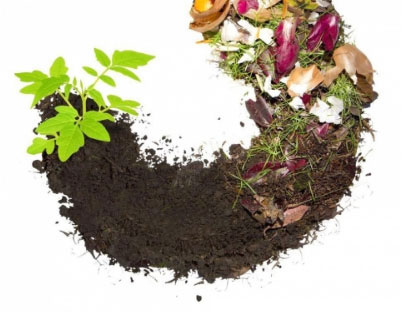 Composting is the controlled biological decomposition and conversion of solid organic material into humus like substance called compost. Composting is the process of letting the nature to transform the organic materials into a material with environmentally beneficial applications. The process is aerobic, meaning it requires oxygen.
Composting is most efficient when the major parameters – oxygen, surface area, nitrogen/carbon ratio, moisture and temperature – Balanced healthy compost depends on five things :
Oxygen
Temperature
Moisture
Surface Area
Carbon/Nitrogen Ratio
Features
Cylindrical Vessel : Cylindrical design of the machine provides more surface area required for the composting process. Also, it helps ensure easier agitation of the loaded waste.
Compact Design :  The machine is designed such that it can easily be accommodated in less space for its rated capacity.
Odourless :  The machine is equipped with a bio-filter which contains a carbon source for removal of bad odour from organic waste.
Quick ROI :  This design enables return on investment within the shortest possible time due to the nature of waste. The cost of the equipment can be recovered in short span.
High quality compost :  This machine gives high quality of compost provided factors such as temperature, moisture, oxygen, C and N ratio are maintained as desired.
Type of Wastes Handled
Airport waste
Animal/Slaughter House Waste
Dry Leaves
Food
Municipal Garbage Waste
Poultry Waste
Sludge
Wood/Paper
Application
Apartments
Food and Confectionary Industry
Hospitality Sector
Hospitals Medical Establishments
Hostels
Poultry Industry
Remote Camp Sites
Products Covered
Liquid Waste Incinerators
Incinerator for Animal Waste
Precious Metal Recovery Incinerators