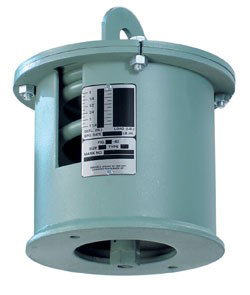 Precompression. Precompressing the spring into the hanger casing provides the following advantages :
Saves up to 50% in headroom by reducing the length of the hanger.
Reduces the installed height of the overall hanger assembly.
Prevents the spring supporting force from exceeding the normal safe limits of variations.
Saves valuable erection time because spring is precompressed close to 1 ⁄2″ of the working range.
Calibration : All Variable Spring Hangers and supports are calibrated for accurate loading conditions.
Load indicator is clearly seen in the slot, simplifying reading of the scale plate. Load is read from bottom of indicator.
Cold set at the factory upon request.
Spring and casing are fabricated of steel and are rugged and compact.
Piston cap serves as a centering device or guide maintaining spring alignment.
Casing protects the spring from damage and weather conditions.
Standard Finish : Painted with semi-gloss primer. (Also Corrosion Resistant Finish is available)