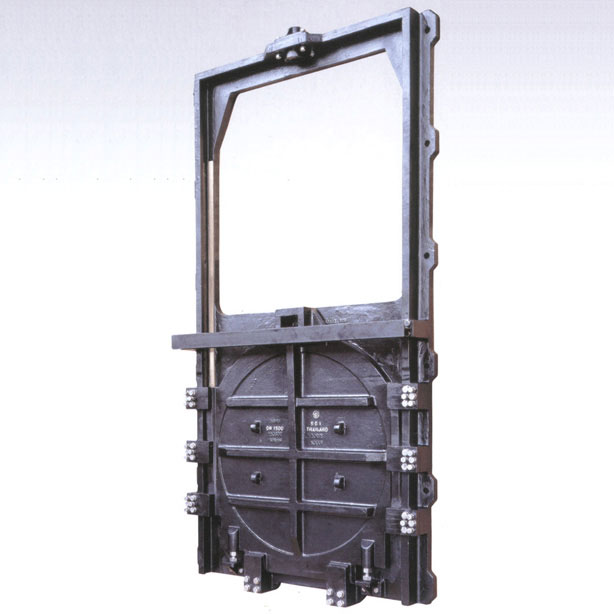 Frames and Gates
Materials are in high duty cast iron constructed with substantial ribbing for resistance to deflection. Frames connection are of flat back or spigot type for extending into concrete, spigot end type provide extra stiffening to the frame. As for circular and rectangular sewage penstocks, flanges connection are also available on request, These types of connection are used to enable bolting installation to the flange inlet pipe and wall thimble installation. On each side of the frame, guide channels are provided for the gate and extended to a sufficient height to ensure that the gate is supported over not less than two-thirds of its depth when at maximum lift.
Body Seat, Gate Seat
These consist normally of bronze seating strips of heavy rectangular sections pinned to machined surfaces on body and gate which are then ground in together to a watertight bearing. Bronze strips are also fitted as bearing surfaces in the guides into which the gate lifts. For sea-water or sewage, aluminium bronze is used or alternatively is stainless steel.
Wedges
On each side of the frame are cast iron cover bars extending vertically down with adjustable block for limiting the downward movement of the gate. These where tight closure is required and when under pressure forcing the gate away from the frame, additional top and bottom wedges are provided. When strong support is required due to heavy loading, top wedging is a cast iron wedge bar spanning the gate, having taper faces against which the gate wedges work. The number of wedges provided varies according to the size and shape of the penstock and the pressure conditions.
Stems
Both rising and non-rising stem construction are available. In the non-rising form, the operating threads engage a tapped lifting nut housed between lugs at the head of the gate, the game itself being cast with a barrel to accommodate the projection of the stem at open positions. In the rising type, the stem is bolted to the stem nut and has the operating thread at the upper end where it engages a revolving nut in the actuator.
All stems are suitable sized for duty and furnished with machine-cut thread of stub acmeform. High gradematerialsappropriateto the servicer equirements are used,the selectiono f whichis based on such factors as the nature of the fluid to be handled, the operating load, the distance fromgate to actuator, etc. aluminium bronze and stainless steel arc altematives and regularly employed.
Salient Features
Materials: Cast Iron or Ductile iron
Application: - Sewage Treatment Plants, Power Plants, Flood Control Projects, Dams, Industrial water control projects
Configuration: 4-sides sealing, 3-sides sealing, Special profile, Roller gates
Standards: AWWAC-501, BS 7775
GATE OPENINGS: Three types of opening are available
Square
Rectangular
Circular
Metal to metal sealing
Mounting: Channel, wall mounting, flush bottom
Thrust tubes: Needed
Water pressure & Duty: These penstocks can be designed against any water pressure or metric water column (MWC). Depending on the capacity to withstand varies water pressure, the penstocks are also classified as Light duty, medium duty or heavy duty.
Replaceable seals leading to low maintenance.
Type: Rising & Non-rising spindle.
Operation: Manual, Gearbox, Electric & hydraulic actuation