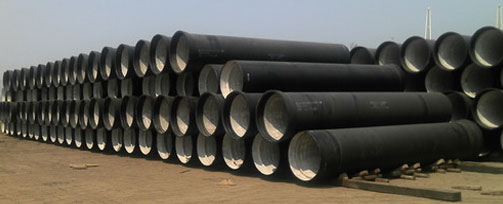 Standard
DI Pipes - ISO 2531-1998/EN 545 – 2006
Flanges – ISO 7005-2/EN 1092-2
Cement Mortar Lining – ISO 4179
Metallic zinc with Bitumen – ISO 8179-1/ BS 3416
Material
Ductile Iron – K9 (Socket – Push on, Spigot, Flanged Ends)
Application
Potable water transmission and distribution due to its higher strength and corrosion resistance.
Specification
Material
Pipes Centrifugally Cast
Pipes Not centrifugally Cast, Fittings and Accessories
Minimum tensile strength (Mpa)
420
420
Minimum yield strength (Mpa)
300
300

Minimum elongation after fracture (%)

DN 40 to DN 1000

DN 1100 to DN 2600

10

7

5

5

Maximum Brinell hardness,(HB)
230
230
Internal Pressure – C class, Circular and uniform thickness of pipes
Raised Face Flanges. Rotatable Flanges up to DN 600
Pipes internally lined in accordance with ISO 4179 with sulphate resisting blast furnace slag cement mortar.
Pipes externally coated with metallic zinc and bituminous coating layer or polyurethane to DIN 30671.Metallic Zinc and Bitumen with a minimum DFT of 100 micron.
Internal surface of the socket bell painted with non-toxic fusion bonded epoxy coating with DFT of 300 microns or zinc rich paint 150g/m2 plus a layer of bituminous paint to a minimum DFT of 100 microns and total average of 120 microns.