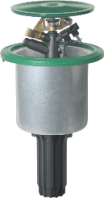 Gear Drive Pop-Up Sprinklers have high quality, are reliable, and durably designed for basic residential and light commercial applications. These sprinklers have the shortest range of rotors and were designed for offering efficient and convenient alternatives to spray heads. They are capable to work in connection with larger rotors for combining small and big areas in a single zone. They take the help of the SRM in which appropriate results in fewer sprinklers perform more efficient work at more economical pricing. The SRM comes with a rack of six highly water-efficient nozzles, all of them can be identified easily with the help of its flow rates and are changed and installed at a very lesser time with lesser efforts. This amazingly versatile rotor also includes a radius adjustment feature that can fine-tune the spray for keeping the water away from the driveways, footpaths, and other non-landscaped surfaces. This Gear Drive Pop-up Sprinkler is reputed for its reliability, quality, and innovative features which are found in the rotary sprinkler line and continue to set the benchmarks by which sprinklers of other manufacturers are judged.
Gear Driving Rotary Nozzles or Rotating Sprinkler is found mainly in the pop-up irrigation systems. Gear Drive Pop Up Sprinkler is a type of spray head which is more efficient compared to other pop up irrigation spray heads. These nozzles have a radius ranging between 15 and 40 feet depending on the brand and the pressure of the water and this can usually cover anything from 15-360 degrees depending on the nozzle you are installing. Several rotor sprinklers are available as the singe black tube looking sprinklers which fit into a pop-up irrigation system. These pop-up sprinklers are available in a wide range of models so ensure to read the details closely for understanding the radius, range, and inlet size of the sprinkler head. With the right distance nozzle and the desired pattern of spray, it will be possible for fine-tuning your watering needs much more so that you can impact with an impact sprinkler system for avoiding to watering the concrete paths, cars, fences, neighboring properties, or other undesirable areas that can help to significantly conserve water.
Features
More Efficiency – Several rotary sprinklers are more efficient compared to the other forms.
Low Water Pressure – If the water pressure of your house is lesser than 40 PSI, then the best choice lies with the rotary sprinklers.
Better Radius – The most admirable feature is a better radius, better distribution of spray, and better distance.