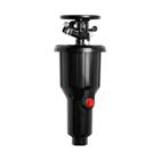 The powerful throw of the Impact Lever Pop Up Sprinkler allows the most spacing and offers amazing close-in watering and uniform water distribution. Low-pressure loss along with a straight-through and efficient flow design helps for conserving energy and is ideally suited for dirty water applications. Puddling, run-off, and erosion caused by low head drainage is prevented by the optional seal. Most importantly, it is rugged and dependable which is often popping up on schedule again and again due to the multi-function wiper seal.
Features
Proven impact drive along with the straight-through flow for amazing performance in unclean water.
Five standard trajectories along with two low angle color-coded nozzles for matched precipitation in a wide range of applications.
Easy to adjust and easily serviceable.
No tools needed for changing the nozzles.
Comes with a heavy-duty plastic case which is sturdy and reinforced ribbed in design.
Double-weighted arm for an increased distance of throw and slower rotation.
Self-flushing inner trip having improved inner trip lever.
Comes with powerful reverse action.
Adjustable arm spring for getting a low-pressure and low-gallonage operation.
Low pressure, energy-efficient, and low-gallonage operation.
Longer life due to the hooded bearing.
Distance control diffuser pin.
Pressure-activated, multi-functional wiper seal.
Pressure activated wiper seal and inlet filter screen for protecting internal assembly from the debris to guarantee positive pop-up and retraction.
Heavy-duty, stainless steel retract spring which assures positive pop-down of the sprinkler.
Serviceable by the top of the case.
The erosion and puddling which is caused by low head drainage is prevented by optional internal Seal-A-Matic (SAM) and also saves water.
Comes with an optional nonpotable cover.