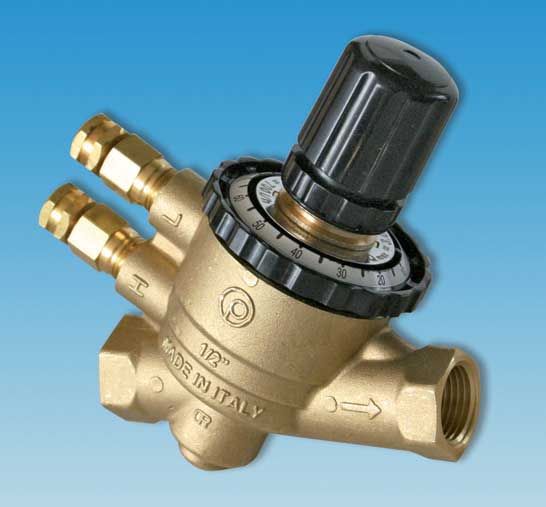 The Diaphragm Type-DZR Brass PICV combines the functions of a differential pressure controller, regulation valve and 2 port control valve into a single body.
It incorporates a small diaphragm cartridge type PICV in order to keep a constant differential pressure across an orifice and to provide a constant flow rate whilst the differential pressure is with the operating limits of the valve. Beyond these working pressures the valve acts as a fixed orifice.
Making this orifice adjustable allows the valve to be pre-set deliver a range of flow rates. In the case of this valve the adjustment can be made in situ without removing any covers or actuators, the adjustment wheel is lockable by means of a combined memory stop and indicator.
This also includes 2 port temperature control by means of an oblique pattern globe valve. The plug of the globe valve is machined to give a near equi-percentage flow control characteristic. Due to the fact that the differential pressure across the valve seat is constant it can be said that the authority of this control valve is very close to 1.Due to the way the valve controls the flow rate, irrespective of differential pressure branch and sub mains, balancing valves are not required. The flow rate is maintained at the terminal unit regardless of system conditions making the valve ideal for systems with inverter driven pumps.
Features
Good valve authority to maintain temperature control and power output from the terminal unit using the complete stroke of the valve.
Maximum design flow limitation: once set, the 91 valve maintains design flow regardless of pressure changes in the system.
It can easily be set up once installed, using the external setting ring.
Measure by means of specific meter of the differential pressure across the valve: in this way user can verify if the start-up pressure has been reached and overpassed.
Technical Data
ΔP max. 400 kPa / 4 bar.
Temperature -10 ÷ 120 °C
Working pressure max 2500 kPa / 25 bar
Stroke2,7 mm
Rangeability 50÷100 IEC 60534-2-3
LeakageClass IVIEC 60534-4