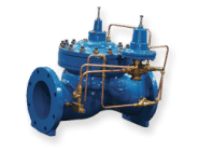 106 / 206-EF-8837BX Excess Flow (Burst Control) Valve
The 106-EF-8837BX and 206-EF-8837BX excess flow valves are based on the 106-PT and 206-PT Double Chamber main valves. The valve is designed to shut-off tightly when flow exceeds a predetermined amount.
The 625-RPD pilot senses the pressure drop of the valve and closes the valve when the tripping flow is reached. Typical pressure drop at tripping is 5 psi / 0.35 bar.
Tripping flow is adjusted by limiting the valve opening with the X102 Stroke Limiter. 10 psi / 0.7 bar inlet pressure must be maintained at the valve inlet when the valve has tripped to prevent self re-setting. This valve closes fast and from a significant velocity. If the upstream pipe is longer than 2,000 ft /600 m, closing speed control should be included. When tripped (closed), this valve has a continuous exhaust of about 1 GPM / 0.063 L/sec to drain.
Features
Tight shut-off when flow exceeds a pre-determined amount
Manual re-activation required after failure
"Failure Signal" options available
Specifications
Quality Assurance
Minimum three(3) year warranty against defects in materials and workmanship. The 316 stainless steel seat ring shall be covered by a lifetime guarantee.
The control valve shall be tested prior to shipment. The standard test shall include a functional stroke test and pressure and leak test of valve body, seat, fitted pilots and accessories.
Pilot Controls
The pressure differential controlpilot shall be a Singer Model 625-RPD with a spring to adjust the pressure setting.
The pilot trim, consisting of a seat ring, stem and inner valve, shall be constructed of AISI 316 stainless steel.
The pilot elastomer: diaphragm, inner valve and seals, shall be of EPDM or Buna-N.
Operation
The pilot shall be a Singer Model 625-RPDnormally closed Pressure Differential Pilot that remains closed when the differential pressure across the main valve is below the pilot setting. When this differential pressure exceeds the 625-RPD pilot setting the pilot opens to direct inlet pressure into the bonnet, above the diaphragm, which closes the main valve. The differential pressure created across the main valve is a function of flow rate and valve position. The required differential pressure to close the pilot and the main valve, at the predetermined flow rate, is achieved by limiting the valve open position using an adjustable X102 mechanical valve stroke limiter. When maximum allowable flow rate is reached and the valve is hydraulically closed, the main valve will remain closed provided that a minimum of 10psi is maintained at the inlet to the main valve. The main valve is reopened, or automatically reset, when pressure is equalized across the main valve.