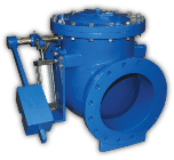 Dutcotennant offer the  Swing Check Valve with its rugged construction and full flow area is the most specified check valve for municipal/industrial water and wastewater applications. Its smooth, unrestricted flow design can provide significant savings in pumping costs over other check valves with reduced ports. Its ductile iron 250 psi rating and fusion bonded epoxy coating place the Val-Matic Swing Check Valve in a class above other swing check valves. The available closure options of Lever & Weight, Air Cushion, and Lever & Spring allow the valve to be used effectively in a wide range of pumping system applications.
Product Overview
Available in sizes 2" - 48"
Ductile Iron Construction for 250 PSI service
100% Flow area
Energy efficient
Fusion Bonded Epoxy - interior and exterior
Full Domed Access Cover with Vent Port
Side or Bottom Mounted Oil Cushions available
Closure Options: Lever & Weight, Air Cushion, Lever & Spring
Manufactured under a certified ISO 9001 quality system
Features
Features
Resilient Seating System
Metal Seating System
Disc Pivot Action
V-Packing Shaft Seal System - POP™ (Packing Overload Protection) Shims
O-ring Cartridge Shaft Seal System
Integral Mounting Pads- Standard on 3" and larger
SCADA Compatible Limit Switch Available
Specifications
1 Scope
1.1 This specification covers the design, manufacture, and testing of 2 in. (50 mm) through 48 in. (1200 mm) Swing Check Valves suitable for cold working pressures of 250 psig.
1.2 The Swing Check Valve shall be of the full waterway body type, with a domed access cover and vent port
2 Standards, Approvals and Verification
2.1 The valves shall be designed, manufactured and tested in accordance with American Water Works Association Standard ANSI/AWWA C508 and in accordance with Manufacturers Standardization Society Standard Practice MSS SP-71 or MSS SP-136.
2.2 The valves used in potable water service shall be certified to NSF/ANSI 61, Drinking Water System Components - Health Effects, and certified to be Lead-Free in accordance with NSF/ANSI 372.
2.3 Manufacturer shall have a quality management system that is certified to ISO 9001 by an accredited, certifying body.
3 Connections
3.1 The Valves shall be provided with flanges drilled in accordance with ASME B16.1, Class 125 iron flanges or ASME B16.42, Class 150 for ductile iron flanges.