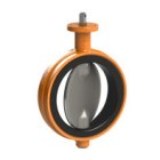 We supply a large range of Wafer butterfly valve.
Rubberlined EVS Wafer butterfly valve is concentric butterfly valve with bonded vulcanised rubber linings. The butterfly valves are designed with square driven anti-blowout shaft and slim disc of acid-resistant stainless steel with machined and polished disc edges resulting in low torque.
It is made by grey cast iron, Nodulair  cast Iron, stainless steel cast.
Wafer butterfly valve can use to retain a seal to protect against dual-directional pressure differential in the flow of fluid.
Specifications
Specification Construction Concentric butterfly valve with bonded vulcanised rubber linings Body type Wafer type End connection EN 1092 PN 6, 10 and 16 ASME B16.5 cl. 150 / B16.47 cl. 150 MSS SP 44 cl. 150 AWWA C207 cl. B, D and E BS 10 table D and E JIS 5K/10K/16K Design pressure 16 bar / 232 psi Nominal diameter DN 50 / NPS 2 up to DN 1400 / NPS 56 Face to face Wafer short, acc. EN558-1/2 Series 20 API 609 Cat. A Body material Grey cast iron Nodulair cast iron Steel cast Stainless steel cast Aluminiumbronze / bronze