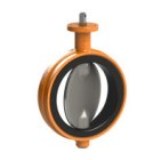 The function of a wafer butterfly valve is to retain a seal for protecting it against dual-directional pressure differential in the flow of fluid. In simpler words, the wafer version of butterfly valves designed for keeping a tight seal to safeguard against the bi-directional pressure differential for avoiding any backflow in systems that have been manufactured for uni-directional flow. This is obtained by using a tightly fitted seal like an O-ring, precision machines, gasket, and a flat valve face on the downstream and upstream sections of the valve. Both of the wafer and lug butterfly valves have been used in a wide number of applications for industrial sectors which involve pharmaceutical, food processing, oil, chemical, water along with waster water management. The valves which are used in these industries are manufactured mainly in compliance with cGMP (current good manufacturing practice) and "Pharmaceutical Quality/Manufacturing Standard" guidelines. Butterfly Valves for most of the cases have replaced ball valves for a wide number of industries, this is mainly the case for those who are dealing with petroleum as they are much less expensive and are easy to install. Wafer butterfly valves are assembled using nuts and rods. They are installed above the ground for reducing the congestion. These valves are suitable for low-pressure systems and all kinds of fluids.
Specifications
Construction

Concentric butterfly valve with bonded vulcanised rubber linings

Body type

Wafer type

End connection

EN 1092 PN 6, 10 and 16
ASME B16.5 cl. 150 / B16.47 cl. 150
MSS SP 44 cl. 150
AWWA C207 cl. B, D and E
BS 10 table D and E
JIS 5K/10K/16K

Design pressure

16 bar / 232 psi

Nominal diameter

DN 50 / NPS 2 up to DN 1400 / NPS 56

Face to face

Wafer short, acc. EN558-1/2 Series 20
API 609 Cat. A

Body material

Grey cast iron
Nodulair cast iron
Steel cast
Stainless steel cast
Aluminiumbronze / bronze

Sealing

Rubber seat

Operation

Lever
Worm gear
Pneumatic actuators
Electric actuators
Hydraulic actuators
.