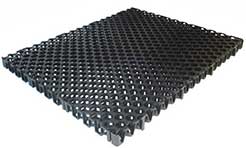 Our Drainage Cell System provides a perfect Solution for sub-soil drainage application for creating successful Roof Garden, without any traditional problems associated with cracking or leakage. The 30mm Drainage Cells provides a uniform surface as well as an internal void space for effective draining of excess water.
The 30mm Drainage cell system has a unique Diamond CUP structure which provides water retention for passive landscape & irrigation and helps building a perch water table in the above soil profile for the vegetation to flourish in prolonged dry periods.
30mm Drainage Cells is made from recycled Polypropylene and is inert to soil borne chemicals and bacteria. Drainage cells shallow and effective drainage profile helps landscapers to make use of mature plants on roof garden which needs soil depth and water retention properties.
High Summer temperatures can cause thermal expansion in concrete and can cause waterproofing to crack, 30mm  Drainage Cell system due to its unique design and void properties help this heat to escape and hence reduce the risk of cracking, enhancing building life.
Advantages
Very high compressive load carrying capacity of up to 140 tons/m2.
Very high lateral flow capacity.
Maintains actual void size for effective drainage after backfill& compaction.
Fit-in system easy to cut and comes in pre-clipped panels.
Low weight, only 3.2 kg/sqm compared to 250 kgs/sqm of gravel for the same effective drainage,-hence reduces deck loads.
Thin - reduces depth of cover and allows the use of mature planting in shallow conditions.
Holds and creates a perch water table, providing ideal moist conditions for plant growth.
Reduces hydrostatic forces upon sub-grade walls.
Easy to shop, store and install comes in pre-clipped panels.
Reduce the risk of waterproofing to crack due to thermal expansion in hot periods.
Environmentally friendly made from selected Recycled Polypropylene
Recharges Groundwater Table through principle of infiltration when used on natural Ground surface.
Light weight hence no heavy machinery or skilled labour required.
Site space utilization and minimum site disruption.
Applications
30mm Drainage Cell is a lightweight, yet incredibly strong drainage panel, ready to be covered with Geotextile fabric for vertical and horizontal drainage applications, including :
Roof Decks, Planter Boxes, Podium gardens
Landfills Drains (gas & Leachade Collection)
Sportsfield Sub-soil Drainage
Retaining Walls for Foundations
Subfloors
Tunnels Drainage
Road & Highway Edge Drains
Landscape French Drains
Biofilters & Gas Dispersion systems
Underdrain system for High Ground Water tables.
Specifications