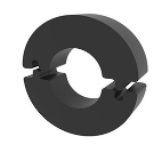 Dutco Tennant LLC is renowned as one of the biggest suppliers of Pipe Supports Inserts for HVAC in the UAE. We supply Rubber Support Insert which is an effective way of preventing the crushing of insulation at pipe support of condensed water, chilled water, and domestic hot/cold water installation. Our supplied Rube Pipe Support Inserts primarily attributes rigid construction, dimensional accuracy, exceptional durability, and low installation cost. The insert is also resistant to water and weather impact, corrosion. With us, you can get Rubber Support Insert in several sizes and insulation thickness for a wide range of applications.
Areas of application -
These are widely used with chilled water pipes condenser water and domestic hot/cold water installations. They are also suitable for ceiling or vertical wall mounting.
Features and Benefits
To prevent crushing of insulation, they are used at the supporting points of insulated pipes

Genetically superior to wood

Has a very high load-bearing capacity

Highly resistant to  deterioration/distortion

As each set is individually machine molded, dimensional accuracy is ensured.

Available in tongue and groove design.

Eliminates the need for termite control treatment.

Available in several thicknesses.

Due to the lack of requirement of additional metal sheets for wider load distribution, the installation cost is lower.

An acoustic barrier against transmission of high frequencies is also provided by Rubber pipe supports.
Contact us to get the most superior range of Pipe Supports Inserts for HVAC projects in the Middle East manufactured by some of the biggest names of the world.
Field of application
For supporting and preventing crushing of insulation at pipe support insulations for both horizontal and vertical pipes
Suitable for Chilled water and domestic hot & cold water installations.
Advantages
Made of SBR & EPDM material.
Excellent resistance to deterioration / distortion.
Very high load bearing capacity.
Available for pipe sizes upto 24" with various insulation thickness up 75mm