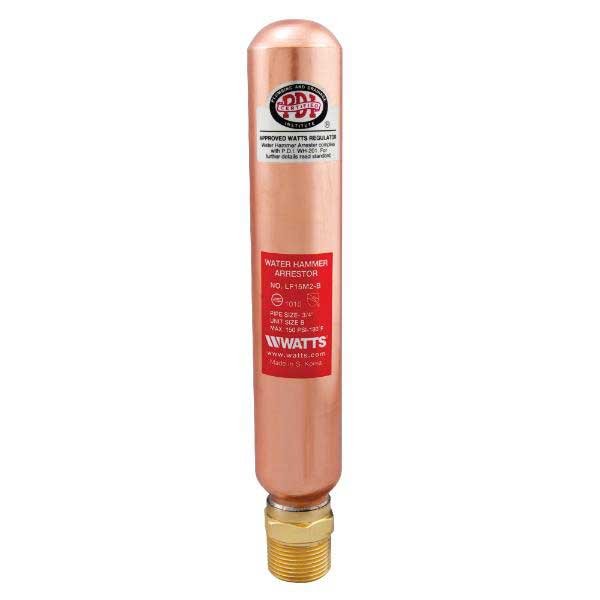 The banging noise in the pipes is caused due to the shocks from the water which is flowing at high speed inside the piping systems when any fixture gets closed suddenly. The sudden stoppage of the water which is a non-compressible liquid that is flowing at a provided pressure and velocity creates a spike or surge of water and is known as a water hammer. Whenever this happens, a wave of pressure travels back via the pipe unless it can find out a relief point. The Piston Type-Lead Free Copper Alloy Plumbing Water Hammer Arrestors have been designed for eliminating this effect. They are lead-free in construction which complies with the requirements of Lead-Free.
Features –
These arrestors can prevent damage and banging noise to the appliances and pipes which happens due to shock of water pressure.
Do not need maintenance as the piston is the only moving part.
A permanently sealed, pre-charged air chamber absorbs the shock and prevents the loss of air to the water and guarantees completely trouble-free performance.
Easy installation due to NPT solid hex brass adapter or solder-ended connection.
Features
NPT solid hex brass adapter or solder end connection for easy installation
Approved for installation with no access panel required
May be installed in new or existing plumbing systems with a standard pipe tee vertically, horizontally or at any angle
Maintenance free – piston is the only moving part
Air pre-load is 60psi (4.2 bar
Factory air charged and permanently sealed
Size(s)
Technical Data
| | |
| --- | --- |
| Operating Pressure | Designed to operate on all domestic and commercial lines @ 150psi (10.6 bar) working pressure |
| Temperature Range | 33°F to 180°F (0.5°C to 82°C) |