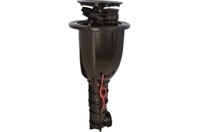 Dutco Tennant LLC can supply you with an amazing range of pop-up sprayers which can be found in 90°, 180°, and 360° for a wide number of Agriculture and Horticulture applications in which it is required to have a low amount of application rate and pressure. We supply pop-up sprayers that can extend above the ground in cases when the system has been turned on and retracts and when it is not in use it is pressurized and finally offers you a clean and aesthetic look. These sprayers are highly suitable for irrigating agricultural field which is densely populated or other high traffic areas. A pressure-activated; low-friction upper steam seal is featured in the unique design that is combined with a second stage piston seal that guarantees positive leak-proof sealing for reliable operation along with long-term performance. Pop up sprayer is designed for being used in smaller areas and to distribute much more water in a very shorter time period. For this, it is termed as an amazing choice for areas that are closer to buildings, patios, or other hardscaping o site that are not intended to be wet.
The Pop-Up Sprayers which we supply have the required height to water agricultural lands. Using tried and tested corrosion-resistant stainless-steel parts and UV-resistant plastic, they are manufactured to offer long product life and reliability. To ensure extremely reliable performance along with long-lasting residential applications, they have been designed. The bodies of these sprayers are available with durable construction that is unparalleled by any other and the exclusive body cap design will not get locked even if they are loosened along with an easy adjustable and reliable two-piece ratchet.
Features
Comes with a unique design that is a low-friction, pressure-activated second stage piston seal and upper-stem seal which ensures positive sealing.
They are found in 90°, 180°, and 360° threaded spray heads.
Made up of durable, UV-resistant plastic material that can withstand the most adverse conditions.
Specifications
Range distance: 34-54 m.
Flow: 23,000 - 65,000 l/h.
Working pressure: 4 - 8 BAR.
Coverage area: Full or part circle.
Boquillas: A single nozzle with 5 outlets: 16, 20 & 24 mm.
Trajectory angles: 23º.
Maximum stream height: 6,2 m.
Rotation time: 360º between 50 and 120 seconds (adjustable)
Uniformity coefficient higher than 85% in areas of 50x50R, 55x55T, 55x55R, 50x65T.