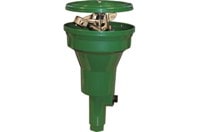 Pop-Up Sprinklers are used for general watering purposes like for example, the lawn area and it is a generic term that is used for sprinklers which can "pop up" automatically and not rotate when they are in operation. In cases of plastic "pop up" sprinklers, retraction is mainly caused by a spring. These sprinklers are mainly suited for home lawn areas having a moderate size which for example are much larger than 10 to 7 feet and in width for around 30 to 40 feet, and also for curvilinear or irregular areas. For 10, 12, and 15 feet radius and in quarter-circle, pop-up sprinklers are most commonly used. These sprinklers can be mainly adjusted down to around 30 percent with the help of an adjustment screw. So, a commonly found ten-foot nozzle can be adjusted down to seven feet. Any higher adjustment will significantly play with the pattern which may result in poor application efficiency. The pattern of spraying via a pop-up sprinkler mainly depends on selecting nozzles for half-circles, water quarter circles, or complete circles. In some cases, a variable arch nozzle is offered. But in cases where a fixed nozzle can work, you must not use an adjustable nozzle the pattern predictability of the adjustable nozzles are not as good compared o a fixed nozzle. Some specific patterns for handling narrow rectangular turf areas are also available. But the performance of the nozzle is not that predictable or very uniform when compared to half-circle, quarter-circle, or full-circle nozzles.
We supply high-class pop sprinklers. These high-class sprinklers offer lesser problems over its life and need much lesser maintenance. Apart from this other advantages of choosing a high-class sprinkler is the care taken to design it for ensuring they are highly efficient and precise for water distribution and saves water, money, and the environment. Being the top irrigation and landscaping products supplier in the region, we also have in our stock all the things which you may need for installing a complete pop-up sprinkler system including the required sprinkler fittings, irrigation pipe, accessories, and tools. Our team of experts also offers specialist advice for the installation and planning of irrigation systems. Get in touch with us today.
Features
Super-resistant pop-up impact sprinkler.
Pop-up shaft reinforced with brass rings.
3/4" lower female connection and 3/4" side female connection.
Made of plastic, brass and stainless steel.
Teflon, steel and rubber rotation joints.
Stainless steel spring with continuous tension.
Easily adjustable irrigation area thanks to its internal clip system.
Wide range of brass nozzles with excellent distribution range.
Removable grit filter for maintenance cleaning.
Anti-sand rubber seal.
Specifications
Reach: 9 - 15 m.
Flow: 250 - 1440 l/h.
Working pressure: 1.5 - 4 bar.
Area: Full or part circle.
Nozzles: 6 models from 2.5 mm to 4.5 mm.
Trajectory angle: 28º.
Maximum stream height: 1.6 m.
Rotation time: 360º between 1 and 4 minutes.
Uniformity coefficient higher than 90% in areas of
12x12R, 13x13T, 13x14T.